AFC U16 Championship
AFC U-16 Championship: Indonesia are a very fit side - India's Bibiano Fernandes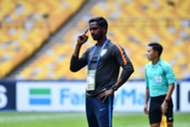 India continued their good run of form as they managed to pick a point against Iran on Monday in the AFC Under-16 Championships in Malaysia. While Iran saw majority of the ball and even earned a dubious penalty, India were very much up to the task and kept their defensive shape throughout.
Coach Bibiano Fernandes believes that his side are growing into the competition and that this was a better performance than the 1-0 win over Vietnam last week.
"It was a good match. We knew it would be difficult to play against Iran. I had seen them playing against Indonesia and even though they lost the match we knew it would be very difficult. We created some chances in the end to score but overall I am happy with the performance.
"In the first match we played but as we are progressing in the tournament, I feel we are getting better in terms of playing together and creating more chances. I have come here with a full strength (squad) and the players who are on the bench are as good as the first eleven. We can replace anybody at any time," said Fernandes.
India next come up against Indonesia who have picked a win and draw from their first two games as well.
"We can continue this form in the next match as well. We did the same in the other tournaments we played before coming here. We will get a good two days rest which is good enough.  I believe we can win every match.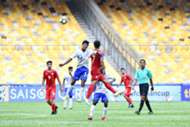 "It will be a tough match. Indonesia had beaten Iran in the first match. I have seen Indonesia play and they are fast, confident and very fit. So it will be difficult. As I said earlier, no match is easy in this competition. We will get to show how good we are and will keep going till the 90th minute.
"All the Indonesian players are dangerous. They are all good; they are playing well and playing as a team," he observed.
The former Sporting Clube de Goa midfielder was questioned about his team's lack of composure in front of goal to which he came to the defence of his players.
"It was happening during our preparation as well and we worked on that. Then we started converting our chances. I am not worried about scoring. Of course, while it is a concern I am happy that the chances are being created. If we get early goals in the next match, it will be good," he mentioned.
The India Under-16 coach also pointed that his team's performances in the competition could inspire more kids back home to take up the sport.
"Football is becoming big in India now slowly. If we can get something big out of this tournament then definitely there will be encouragement. This will be an encouragement for the young kids. If we qualify for the World Cup on our merit then it will be an example," he signed off.