Super League
Abu Bakar Fadzim confirms Keo Sokpheng's departure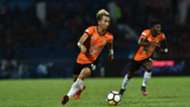 Despite showing early promise, Sokpheng has failed to live up to his reputation and will no longer be a part of the PKNP side for the rest of the season.
PKNP head coach Abu Bakar Fadzim confirmed this during the post-match press conference after a 1-1 draw against PKNS FC in a Super League tie played on Friday at Shah Alam Stadium.
The introduction of an ASEAN import slot for this season sparked a rush from teams to secure players from around the region and Cambodia became one of the target destinations. Chan Vathanaka joined Pahang and Thierry Chanta Bin went to Terengganu, on top of Sokpheng's move.
But it all seemed a bit too much too fast for the diminutive Sokpheng due to the nature of the team, who spend a lot of time defending and coping with the bigger boys in the league.
"Yes, Sokpheng was struggling to get into the team. It's his first time outside of Cambodia and he found it hard to cope with the demands. He doesn't have the physique, no defending and is only good with the ball on his feet. So we discussed and maybe he was homesick. He understand the situation and it was a mutual decision to end his time here."
"For now, we will discuss with the management whether we still need to sign a fifth import. Because what we saw against Felda and PKNS, is that we could cope with just the four. Gisung hasn't scored thus far, he had many chances on target but still not found the net yet. But we will give them more chances," said Abu Bakar.
In the match against PKNS, Abu Bakar's boys had taken a first half lead through Muhammad Safar and were staring at their first away win of the season with second left on the clock. But Nurridzuan Abu Hassan came up with the equaliser for PKNS in the third minute of added time in the second half to disappoint the visitors.
"It was heartbreak but that's football. It was our mistake under pressure and not being able to clear the ball. We were almost there but the lack of organisation in defending cost us. But I still want to congratulate my players. We are small and unknown but game by game, we see the improvement from the team."
"I told my players that PKNS play with a formation that had an all-foreign attacking players. What was important was for us to win the second ball. They are a big physical side, so we need to rely on a lot on our speed and ensure we close the space.
"After we played the first few games, we saw that we were loose in the middle without a ball winner. When Luben and Ritus were in defence, we still conceded. We also pushed Franklin up front to be the target man and try to get a physical advantage," added Abu Bakar.
PKNP's two previous wins have come on home soil at Batu Kawan Stadium against Negeri Sembilan and Kuala Lumpur. This is their first draw of the campaign, they ended up losing their other four matches. But the draw yesterday took them up to ninth spot and they have another chance to further distance themselves from the relegation zone when they take on Kelantan on Wednesday.