Lionel Messi
Messi 'hurt' by video messages during cancer battle, reveals Abidal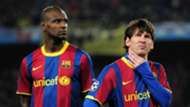 Eric Abidal has revealed that Lionel Messi was 'hurt' by messages the Frenchman sent to his Barcelona team-mates when he was undergoing treatment for liver cancer.
The former France international defender took in six years at Camp Nou, but spent a prolonged period on the sidelines after being diagnosed in 2011.
He has now revealed that during his treatment, five-time Ballon d'Or winner Messi was left so upset by a video message that he'd have preferred his team-mate hadn't sent it.
"When the doctor told me I would need an operation I was happy. It is a suffering that I wouldn't wish on anyone," he told Canal+.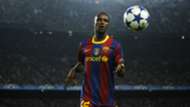 "I was very thin and before a game, I made a video to send to the players to cheer them up and send support.
"Do you know what Messi told me? 'It would have been better to not send this video'.
"I didn't see it like that, I was trying to encourage them but they told me they saw me like a corpse on its feet and it left them upset."
Abidal, who has had a liver transplant and has been given the all-clear, concluded his career with Monaco and Olympiakos, while he also turned out with Lille and Lyon.
He won three Ligue 1 titles in France, but enjoyed his greatest successes with Barca, where he claimed La Liga four times and the Champions League twice.