PROFILE
By Patrick Reilly
They queued round the corner on Dublin's O'Connell Street for the latest book signing at the well-known Eason store in late 2010. A passer-by may have thought it was Bill Clinton or Tony Blair inside but the crowds had gathered for one of Irish football's most loved sons – John Giles.
Player, manager, pundit - Giles has been at the forefront of the game in Ireland for five decades. The Dubliner came from good football stock as his father Christy played for Bohemians and later dabbled in management.
Giles kicked his first ball at the age of three and by the time he was eight was featuring in teams for players six years his senior. His talent was obvious but even as a teenager he already possessed a hard-headed approach to the game which would define his career.
In a 2010 interview he said he did not take personal satisfaction from his ability when he was young and added: "That was my driving force in football. I wanted to finish my career and say that I had made the most of this gift that I had been given."
That gift was spotted by Manchester United who brought the 15-year old to Old Trafford in 1956 emulating his fellow Irishman Liam Whelan who crossed the channel some years earlier. The Red Devils were entering a brief golden era with the Busby Babes and the boyhood Man Utd fan looked set to join Whelan, Bobby Charlton and Duncan Edwards in a team widely tipped to dominate the English game for the next decade.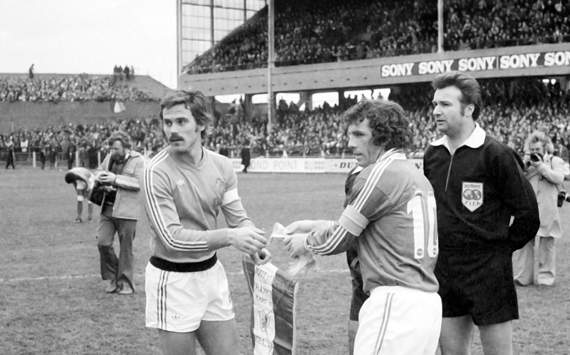 Giles meets Christian Lopez ahead of Irish World Cup qualifier

JOHN GILES

Caps, Goals: 59, 5

Clubs: Manchester United 1957–1963, Leeds United 1963–1975, West Bromwich Albion 1975–1977, Philadelphia Fury 1978, Shamrock Rovers 1977–1983

Honours: Football League First Division (2) 1968–69, 1973–74

FA Cup (2) 1962-63, 1971-72

League Cup 1967–68

Football League Second Division 1963–64

Fairs Cup (2) 1967–68, 1970–71

FAI Cup 1977–78

Giles was in the first team by 1959 as United attempted to rebuild a new side following the Munich air disaster a year earlier. Matt Busby failed to utilise his young midfielder's talents to their full potential though and lost faith in him after an FA Cup semi-final defeat to Tottenham Hotspur in 1962.
A year later Giles would play a key role in United's FA Cup win victory over Leicester assisting two of the goals in a 3-1 Wembley win. His Old Trafford career was over by that summer and he asked Busby for a transfer.
The legendary manager would later admit that letting Giles go prematurely was his greatest mistake in football.
Second division Leeds United were the grateful recipients of the United outcast and the Lilywhites won promotion to the top flight in Giles' first season at Elland Road. Don Revie's rapidly ascending team were pipped to the First Division title on goal average just 12 months later.
Being beaten at the post right at the death became a Leeds trait during Giles' 12 years at the club. The club claimed seven trophies when the stylish Irishman was wearing the starched white shirt but it could have been double that but for a variety of reasons which Leeds fans murmur about to this day.
At Elland Road he formed a formidable partnership with Billy Bremner where the duo provided a combination of skill and toughness in equal measure. In his autobiography he admitted to taking out Chelsea player Eddie McCreadie in 1972 with a late tackle in retribution for being on the receiving end of a similar offence eight years previously.
Like all great players Giles made the game look easy and in a physical era was able to find space to play a trademark peerless pass. He rarely gave the ball away and was acknowledged as the outstanding player in a Leeds squad full of superb talents.
After being passed over in favour of Brian Clough for the Leeds manager job in 1974 he departed for West Bromwich Albion in 1975. He admits the two years as player/manager at the Hawthorns were amongst the happiest of his career and he settled in the Midlands where he remains to this day.
His international career began early; scoring on his debut against Sweden and he represented his country for 20 years. Just like George Best, he would never grace a major tournament although the Boys in Green did come close to qualification for World Cup 1978 when Giles was in the manager's seat.
Giles departed as national coach in 1980 and wound down his career at Shamrock Rovers for whom two of his sons would go on to play.



"As I look at all the talent and character at my disposal today, my one regret is that John Giles wasn't born an Englishman

"



- 1966 World Cup-winning manager Sir Alf Ramsey

An intelligent observer of the game, Giles first appeared on Irish TV during World Cup '86 following encouragement by his friend and occasional verbal sparring partner Eamon Dunphy to try media work. For a generation of Irish fans he has been the voice of reason with his straight talking analysis of the game which he continues to do in his 71st year.
On his 70th birthday Giles was the subject of a televised special where he was saluted by an audience of football greats. He has set up a foundation which bears his name focusing on social change.
As for his autobiography which the Dublin crowd were queuing for, it instantly became a best-seller topping the Christmas charts.

Debate our choices on

and

Leave your comments at the end of the player profiles and let us know what you think.

We hope that you will share your opinion and insight with us on our choices.