COMMENT
By Peter Staunton
Maybe we should have sent Tony O'Donoghue to ask questions after Spain's 1-1 draw against Finland at home on Friday night. "Will you be resigning now, Vicente?" he might have probed. After all, the world champions had just slipped up on their own patch against opposition they should have blown away. Del Bosque unquestionably had to go after a result like that and Tony would be the man to demand the answers.
The best team in Europe drawing against the 38th-best. Shameful. But nothing compared to the embarrassment faced by continental behemoths Ireland as they were pegged back by plucky Austria on Tuesday. The Irish, veritable Goliaths, faced widespread indignity and humiliation against a team ranked a mammoth 14 places below them in their confederation. A team containing nothing players like "David Alaba" and some 25 goal striker up front. Sickening.
Austria - a team on a modest run of form; only 10 goals scored and none conceded in their previous two competitive matches. Pathetic on Ireland's part to fail to put that lot away. How can the Irish show their faces after succumbing to a late equaliser against these part-timers? We're Ireland. We demand better. Some of our players play in the Premier League for mid-table teams, don't you know. But those technically-brilliant World Cup winners-in-waiting are being told what to do by Giovanni Trapattoni, a man who is so old and dithery that he can remember the last time Ireland beat Austria. 50 years ago.
It is, of course, all Trapattoni's fault that we drew with Austria. That is true. Just as it's true that the players must take all the credit for the draw in Sweden on Friday. Achieving results despite Trap in Stockholm and then being sabotaged by the old fool on Tuesday.
If only he had brought Wes Hoolahan into the game from the bench instead of Paul Green. Then we would have won. We'd probably even win the World Cup with him in the team. No matter that Hoolahan might not even have got a touch at a stage of the game when Austria were all over Ireland like flies on jammy bread. Or that he would have had to pass the ball to John O'Shea anyway, whose idea of a first touch these days is to close his eyes and hope for the best. Maybe we should send Hoolahan to Cyprus to sort out the banking crisis there because the longer he spends away from a problem the more his aptitude grows for solving it.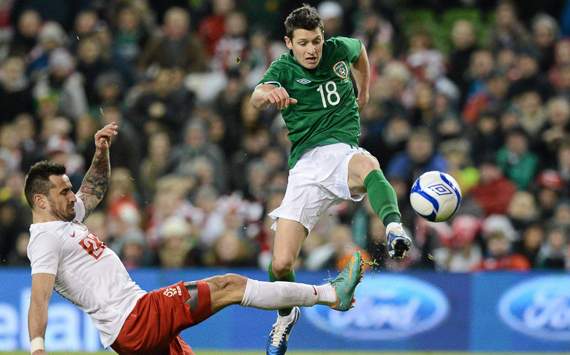 Wes Hoolahan | The latest name put forward as the one that Trapattoni should pick

Ignore the fact that Brian Kerr, who picked other League of Ireland players during his tenure, and Steve Staunton never saw fit to call him at all. Now he's the man to stitch it all together if Trap would only bloody pick him. Just like Andy Reid, Steven Reid, Ciaran Clark, Seamus Coleman and James McClean have been through Trap's tenure. We saw last night what Clark brings to the party. I suppose that he should be dropped now? Enlighten me, I can't keep up. Or was his dawdling that led to the opener Trap's fault as well?

Ignore the fact that after going 2-1 up through Jon Walters, in for Robbie Brady (what's Trap thinking?), Ireland suffered a bout of the national sickness.

Retreat.

Does the name Giovanni van Bronckhorst mean anything to you? Luis Figo? Abbas Suan? Avi Nimni? They recognise the symptoms of it.

Davor Suker? Goran Stavrevski? Tayfur Havutcu? Fabio Celestini? Marek Cech? So do they.

All have scored winners and equalisers against Ireland in World Cup and European Championship qualification since Jack Charlton left the job nearly 20 years ago and before Trapattoni was appointed. Big, dirty damaging goals that we, literally, brought on ourselves.

When the panic sets in and the game moves entirely to the Ireland half, that's when it strikes. When touch deserts the Irish and every second feels like three. When bodies go on the line and hearts stop in the crowd. When "how the hell can he add on three minutes!" When Ireland's complete and utter lack of composure and technique are exposed for all to see. But forget all of that; Trap out.

When are we going to see the players in the national team take some of the blame for the individual errors and the manager credited for his part in the good results - the ones that put us above our station? When are we going to consistently produce players, like Austria's, who want to take the ball down, make incursions into opposition territory and take command of the game? And this is Austria. They are ranked way down, below Scotland even. Because until those questions are asked, Ireland's failings will perpetuate.

Trapattoni's job description is not to solve the technical and administrative ills of Irish football. John Delaney has no interest in that. Nor is it to produce an attractive team. Jose Mourinho's 5-0 defeat at Camp Nou a few seasons back demonstrated what happens when teams try to go toe-to-toe with technically superior opposition. Which, for Ireland, is about 80 per cent of the time. Trapattoni's remit is to coach the team with the players available to him and to earn results. In that respect he is doing a fine job.

So unless the next man can turn dust into diamonds, we persist and we support. Persist until his 100th birthday if needs be. That's how long it might take to sow and reap the fundamental technical changes needed to lead Ireland from the dark ages.

This perception that we should be somehow better than we are is baffling. Is it because we see ourselves as as good as England as a result of watching football on Sky every week? The reality is that the only thing preventing us 'doing a Scotland' and becoming the one of the first teams eliminated from a World Cup qualification programme is Giovanni Trapattoni. Two qualification losses in 25 - against Russia and Germany. Unbeaten in 14 competitive away matches.

Make no mistake, looking at the predicament of the Scots is like looking into a crystal ball. The basic infrastructure, the player production, the dilapidated league system and the composition of the national squad is a mirror image, or close to, what we have in this country.

And do me a favour. Ask a Blackburn fan what it's like to sack a manager instead of addressing the fundamental failings around a football team.

There, but for the grace of Trap, we go.