PROFILE
By Ronan Murphy
The autobiography 'Back from the Brink' tells the story of a man whose life was ruined by alcoholism. His need for drink consumes his life and has a negative effect on his work and his relationships – with his friends, his wife, and his children. It's a remarkable story of one man's struggle with the demon drink. What makes it even more astonishing is that it's also the autobiography of Ireland's greatest defender, Paul McGrath.
Born to an Irish mother and a Nigerian father, McGrath impressed on the football pitch from an early age, playing with Pearse Rovers and Dalkey United. At 21, he signed a professional contract with St Patrick's Athletic, becoming a fan favourite, and earning the nickname 'The Black Pearl of Inchicore'.
After winning the PFAI Player of the Year Award, he joined Manchester United. He played under Ron Atkinson and Alex Ferguson for the Red Devils winning the FA Cup, before moving to Aston Villa.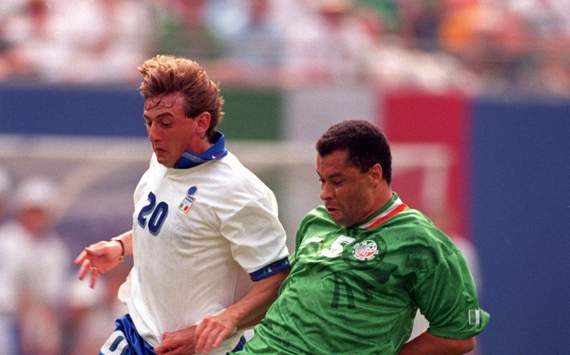 McGrath challenges Giuseppe Signori during Ireland's famous win at USA 94

PAUL MCGRATH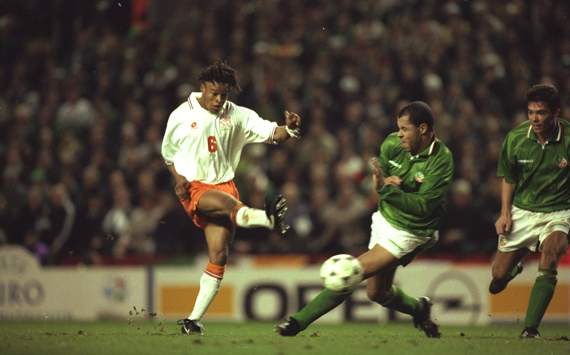 Caps, Goals: 83, 8

Clubs: St Patrick's Athletic 1981-82, Manchester United 1982-89, Aston Villa 1989-96, Derby County 1996-97, Sheffield United 1997-1998

Honours: FA Cup 1985

League Cup (2) 1994, 1996

Individual: PFAI Player of the Year 1982, PFA Player of the Year 1993
Although he had played 163 league games for United, Ferguson was concerned with McGrath's injury problems – he was a regular on the treatment table with knee complaints.
These stemmed from his early days in Dublin when he repeatedly jumped off walls in the mistaken belief that this would strengthen his legs. The injuries continued at Aston Villa, with McGrath often forced to take cortisone injections and play through the pain barrier.
He helped Aston Villa to second spot in the first ever Premier League season, and was rewarded for his stellar efforts on the pitch with the PFA Player of the Year Award.
The following year, he lifted the League Cup, and would do so again in 1996 with the Villans. He was 36 by that stage, and moved to Derby County and then Sheffield United, but was forced to retire when his knees could no longer hold up.
McGrath had many great performances in the Football League and Premier League, but he is best remembered for his time in the green jersey.
From 1985 to 1997, McGrath played 83 times for Ireland, in defence and midfield, finding the net eight times.
Eoin Hand gave McGrath his first cap against Iceland in 1985, but it was Jack Charlton who got the best from the 'Black Pearl'. Deployed as a defensive midfielder, McGrath's ability to read the game and be one step ahead of the opposition helped Ireland qualify for Euro 1988. He scored against Bulgaria and Luxembourg along the way.
McGrath started against England and Holland at the European Championships, and although injury kept him out of many of the qualifiers for Italia 90, he played every single minute for Ireland at the World Cup. After the retirement of Mick McCarthy, McGrath made a centre back position his own, and captained his country four times.
Ireland v Italy at the 1994 World Cup in the New York was McGrath's finest hour (and a half). For 90 minutes, he kept Italian superstar striker Roberto Baggio in his back pocket, giving one of the finest defensive performances ever seen at a World Cup.
McGrath should not have played in the tournament as he had a shoulder virus, and had to receive injections before the game. However, he played through the pain, and despite not having much feeling in his shoulder and arm, he kept the Italians at bay, even blocking a shot with his face.



"Paul McGrath is one of the all-time greats. Someone to compare with Bobby Moore. He's one of the best players I ever had"





- Former Ireland manager Jack Charlton

McGrath continued to be a key player for Jack Charlton, partnering Phil Babb in defence for Euro 96 qualifiers. He played three games for former team-mate Mick McCarthy, but with the new manager looking to the future, McGrath retired from international football in 1997.
He retired from football altogether in 1998, but has never been far from the game. His autobiography is an essential read for any football fan, and makes the reader appreciate his abilities as a footballer even more. But even if he had no off-field problems, McGrath would be rightly regarded as the best defender Ireland have ever had.

Debate our choices on

and

Leave your comments at the end of the player profiles and let us know what you think.

We hope that you will share your opinion and insight with us on our choices.