PROFILE
By Karl Browne
Robbie Keane has always pulled on the green shirt of Ireland with pride and to say he has represented his nation with distinction would be an understatement. A key part of the Irish 'Golden Generation' which, under Brian Kerr, won the Uefa European under-18 title in 1998, Keane's promise as an under-age player has translated seamlessly into the senior game.
He is Ireland's record goalscorer, with 53 strikes from 116 caps, the country's current captain and has fired in some vital goals, dispelling the myth that he only scores against the European game's lesser lights. Competitive goals against Netherlands, Germany, Spain, Italy and France betray that particular lie.
Keane is also joint-second on the list of all-time scorers in European Championship qualification, weighing in with 18 strikes - one fewer than Hakan Suker and Jon Dahl Tomasson and equal to the tallies of Jan Koller and Raul. Quite simply put, Robbie Keane is the greatest goalscorer in Irish football history and his feats are unlikely to be matched.
Born in Tallaght, Robbie was turning heads while playing U10 football for Crumlin United. It was not, however, until he was 15 that Keane made the move overseas. Courted by numerous English clubs, he faced with a choice between Liverpool, whose stars adorned his bedroom walls, and Wolves from the second tier. Keane chose Wolves as he felt he had more chance of breaking into their first team.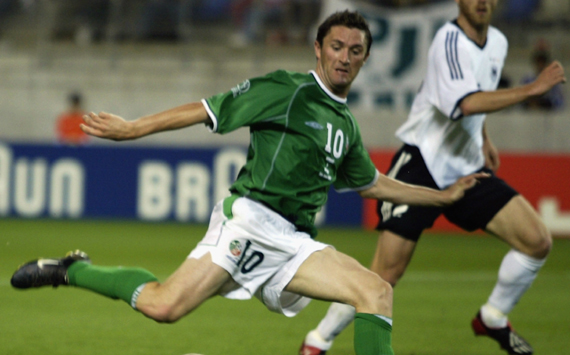 Keane scores the equaliser against Germany at World Cup 2002

ROBBIE KEANE

Caps, Goals: 116, 53

Clubs: Crumlin United 1990-1995, Wolves 1995-99, Coventry City 1999-2000, Inter 2000-01, Leeds United 2001-02, Tottenham 2002-08, Liverpool 2008-09, Tottenham Hotspur 2009-2011 (loan spells at Celtic in 2010 and West Ham in 2011), Los Angeles Galaxy 2011-Present (loan spell at Aston Villa in 2012).

Honours: Carling Cup 2007-08

MLS Supporters' Shield 2011

MLS Western Conference 2011

MLS Cup 2011

Uefa under-18 Championship 1998

Carling Nations Cup 2011

Individual: FAI Young International Player of the Year (2) 1998, 1999

FAI International Goal of the Year 2009

FAI Senior International Player of the Year 2010

Tottenham Hotspur Club Player of the Year (3) 2002-03, 2005-06, 2007-08

In 1999, after two seasons at Molineux, Keane stepped onto the pitch as a Premier League player for the first time having signed for Coventry City. His transfer fee of £6 million broke the British record fee for a teenager. Keane would only spend one season with Coventry; he was about to get a move to a slightly bigger team; Inter - then 13-time Serie A winners.
Marcello Lippi, Inter manager at the time, has since said: "At that time at Inter, they had a policy of going for young players and Robbie Keane was the best one that I saw. He had good technique and he was a good striker. "
Lippi was sacked soon after, however, and his replacement, Marco Tardelli, was not as convinced about Keane's usefulness as his predecessor. It is a nice side note that Tardelli is now experiencing first hand just how good Keane is, as assistant for the Ireland national team alongside Giovanni Trapattoni.
Robbie refused to stick around and warm the bench at San Siro. He forced a loan move to Leeds United. With an impressive one in two goalscoring ratio, Leeds snapped him up for £12m.
But it is at Spurs where Keane made his name. Finally given the chance to settle down into a team and play regularly, Robbie rewarded Spurs with over 100 goals in six seasons.
Then, nearly 15 years after turning down his dream club, Liverpool spent £20m to bring Keane in. Unfortunately, he struggled to impress, with appearances often coming from the bench and starts rarely being greeted with goals.
Keane returned to Spurs after just 28 appearances for the Reds. Keane's domestic career was clearly impacted by the Liverpool performances.
After failing to rediscover his old form at White Hart Lane he became surplus to requirements and Harry Redknapp loaned him out to both Celtic and then West Ham.
Moving to LA Galaxy in the MLS, Keane was now reaching the traditional declining years for a player of his type. Yet, it proved a rewarding transfer as Keane helped LA to the MLS title. In the off-season he made a loan move to Aston Villa and demonstrated beautifully that he has still got it. Three goals in seven appearances represented a very successful spell in the Midlands.


"Someone was asking is he now going to be up there with the top players, the (Liam) Bradys, the (Paul) McGraths. I think there is no doubt that he is"



- Ireland team-mate Kevin Doyle

Still playing for the national team, Keane is one of two players on this list who can still write chapters in his legacy. His only previous experience at a major international tournament came at World Cup 2002, in which he scored three times as the Irish exited at the last 16 stage. He holds the distinction of being, along with Ronaldo, the only player to score past Oliver Kahn at the finals in Japan - South Korea.
At Euro 2012, he has another chance to showcase his striking prowess in front of a global audience. He has inspired, no doubt, an entire generation in Ireland and the true value of Keane to his country will not be accurately measured until he is no longer around to score goals.

Debate our choices on

and

Leave your comments at the end of the player profiles and let us know what you think.

We hope that you will share your opinion and insight with us on our choices.