PROFILE
By Jonathan Birchall
To come through the perpetual hype machine that is the English Premier League and remain truly underrated is a rarity. The division, never shy in branding itself as 'the best in the world', is not known for cultivating humility alongside its qualities. Funny then, that its greatest-ever full back, Denis Irwin, was a master of coupling the two.
Born in Cork, a city whose production line of talent proved pivotal to Manchester United's glory-laden 1990s, Irwin spent much of his youth as both a hurler and Gaelic footballer before England came calling via a move to Leeds United in 1983. He then enjoyed four years at Oldham ahead of his move to Old Trafford in 1990.
Irwin has admitted to having a 'nice' image and as a family man and devout Catholic, was always likely to prove an anomaly as the game and its players were transported into the realms of superstardom.
When asked in 1996 which living person he would most like to meet, Irwin's reply was Pope John Paul II. As such, Irwin was ideal for Sir Alex Ferguson. Old-fashioned off the pitch, entirely forward thinking on it, the Cork man, for his lack of grandeur, remains a revolutionary in English football.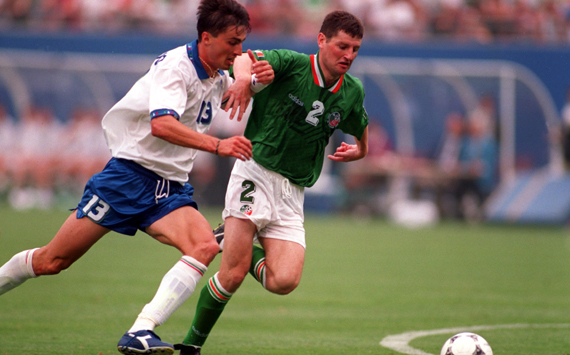 Irwin in action against Dino Baggio of Italy during Ireland's famous 1-0 win at USA 94
DENIS IRWIN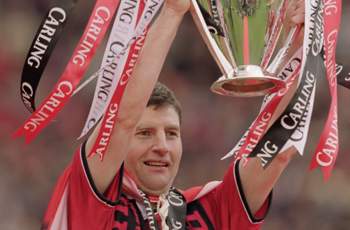 Caps, goals: 52, 4

Clubs: Leeds United 1983-86, Oldham 1986-90, Manchester United 1990-2002, Wolves 2002-04

Honours: Premier League (7) 1992–93, 1993–94, 1995–96, 1996–97, 1998–99, 1999–2000, 2000–01

FA Cup (3) 1993-94, 1995-96, 1998-99

League Cup 1991-92

Charity Shield (4) 1990 (shared), 1993, 1996, 1997

Uefa Champions League 1998-99

Cup Winners' Cup 1990-91

European Super Cup 1991

Intercontinental Cup 1998

Individual: Overall Team of the Decade – Premier League 10 Seasons Awards 1992-93 – 2001-02

The very notion of a defensive player utilising their athleticism to provide an attacking threat was viewed with suspicion on English shores at the dawn of the Premier League era.
The full back position was a term used literally, with Irwin and Liverpool's Steve Nicol notable exceptions as a lack of basic fitness restricted the roles of British and Irish defenders for decades.
Irwin's arrival at Old Trafford for a staggeringly cheap £650,000 saw the Irishman take up the right back position in place of the club's current assistant manager Mike Phelan for the 1990-91 campaign, but it was on the left where he made his name.
The left side of defence would remain Irwin's for over a decade as United dominated the domestic game, with seven Premier League titles, three FA Cups and a League Cup coming the Corkman's way.
Coupled with the 1991 Cup Winners' Cup and a 1999 Champions League winner's medal as part of the now legendary Treble season, the full back remains as one of the English game's most decorated players, picking up a total of 19 major honours at Old Trafford.
Irwin went on to make 529 appearances for United before he left the club to join Wolves for two years in 2002, celebrating his 500th game as for the Red Devils as captain on St Patrick's Day as Ferguson's side beat Leicester 2-0 before leaving for Molineux aged 36.
Although not laced with the same riches, Irwin's international career also saw the defender bring the same level of consistency and quality to the Ireland team over nine years, including two appearances at the 1994 World Cup in the USA.
Scoring four goals and making 52 appearances, the man synonymous with Manchester United retired to concentrate solely on the domestic game in January 2000 – he would secure a Premier League title only five months later.


"In any team of the decade, the full back slots are already nailed down - Denis Irwin at right back and Denis Irwin at left back"



- BBC pundit & former Liverpool defender Alan Hansen

Irwin's industry and intelligence provided a platform upon which those around him could sparkle and in Ken Loach's 2009 film 'Looking for Eric', United legend Eric Cantona described his pass for the Irishman's goal in the 4-1 win over Tottenham at Old Trafford in January 1993 as his greatest moment in the game.
The Frenchman's dinked lob, picking out his left back on an archetypal late run, showcased in similarly attractive goals against Wimbledon and Coventry later in his career, was typical of the man known as 'Le God'.
The finish, however, was all Irwin. Taking the ball in his stride with right foot before hammering it past Spurs keeper Erik Thorstvedt with his left, Irwin was given the chance to add the final note to a masterpiece by Cantona and made no mistake.
After all, he never did.

Debate our choices on

and

Leave your comments at the end of the player profiles and let us know what you think.

We hope that you will share your opinion and insight with us on our choices.