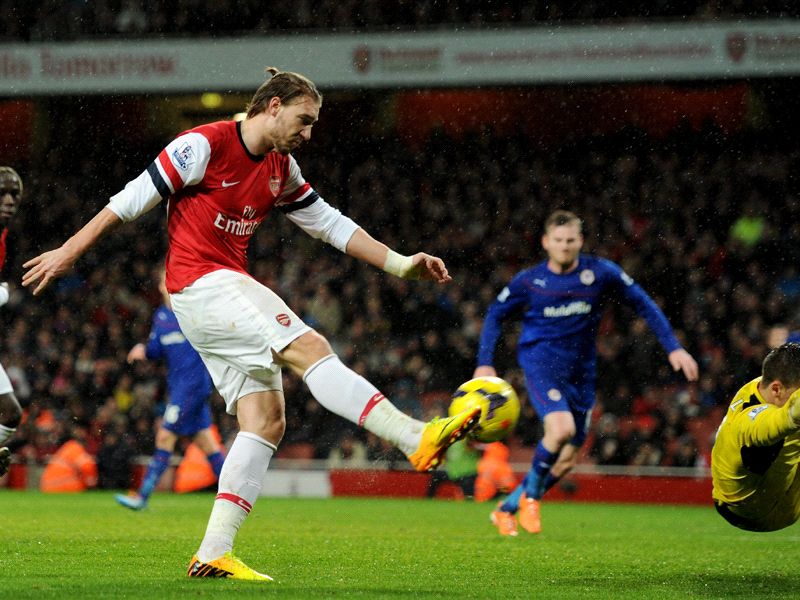 Arsenal
manager
Arsene Wenger
has hinted that striker
Nicklas Bendtner
will leave the club at the end of the season.
Goal
understands that the Gunners will demand an explanation from the
Denmark international over reports that the striker got into an altercation with a taxi driver on Tuesday evening
.
Wenger says that he is yet to speak to Bendtner about the incident but, when asked if it was the "final straw" for the forward, the Frenchman told reporters: "He is at the end of his contract at the end of the season.
"Nobody gave him any permission to go to Copenhagen and he will be fined for that.
"Honestly I don't know really what happened because I haven't spoken to him.
"The only thing that is for sure is he had nothing to do in Copenhagen."
"For the rest, [if] he has created some trouble there I don't know, I will speak to him [on Friday]."
Bendtner was missing from the Arsenal squad who lost to Bayern Munich in midweek due to an ankle injury but has previously admitted that he is unhappy with his bit-part role at the Emirates Stadium.
"If you find a football player who says he is happy to sit and watch and not play then I think he needs to find another job," he fumed to the press.
"I want to play, there's no doubt in my mind. I'm ready, I'm fit, I'm training well. That I'm not selected is up to the manager, it's not up to me, if he then chooses differently then that's up to him."