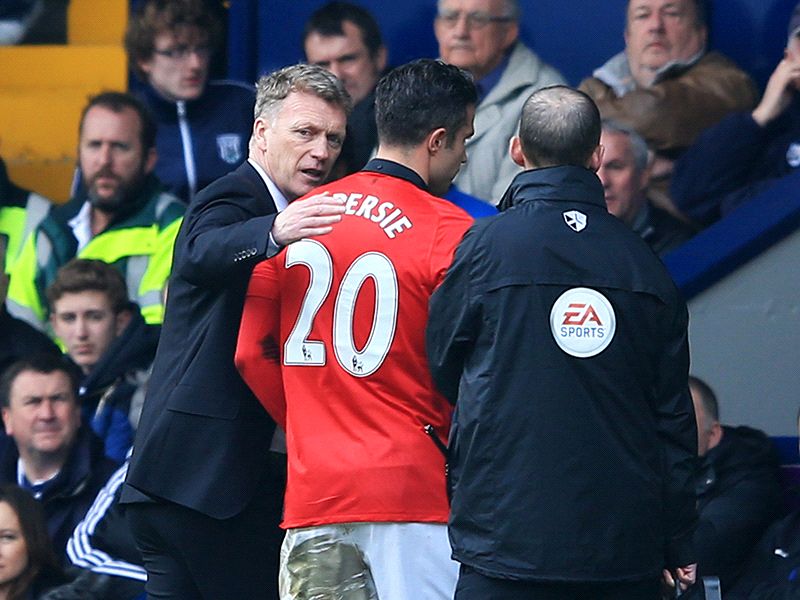 Manchester United
striker
Robin van Persie
says he is studying his managers' decisions more than ever.
The striker clashed with his boss at United
, David Moyes, over training methods towards the end of 2013, though he has publicly backed the Scot to be a success at Old Trafford.
//

MAN UNITED LATEST

Van Persie and Louis van Gaal, his coach with the Netherlands,
have both admitted that the current set-up at Old Trafford can make things difficult for the former Arsenal man
, and he has continued to be linked with a summer exit.
He says that he has started to pay more attention to coaching decisions these days, and praised the ability of some coaches to know how to get the best out of their players.
"Certain managers can hit the right nerve with a player. They have that quality," he told reporters after United's 3-0 win at West Brom on Saturday.
"As I have got older and more experienced, I have become more sensitive to what my coaches are doing.
"I want to know why we are we doing this or why are we training like that. I did not ask those kinds of questions when I was younger, but now I find it interesting to study why my coaches are making certain decisions.
"I want to know why they do things and why they say things to the players, and why they want to play a certain way.
"I think much more about all those things at this stage of my career. I watch the managerial process all the time."
Van Persie was signed by Sir Alex Ferguson from Arsenal ahead of the 2012-13 season, and also saw Van Gaal replace Bert van Marwijk on the international scene in the same summer.
"I have had a lot of changes in coaches over the last couple of seasons," he added.
"I was with Arsene Wenger for eight years at Arsenal, and, with Holland, it was a similar steady situation with Bert van Marwijk.
"Now, in the last 18 months, I changed from Arsene to Sir Alex and now to David Moyes. With Holland, after Van Marwijk, I have Louis van Gaal, who is a fantastic coach.
"I won't put one above the other, but I have learnt really good things from each one of them."
Van Persie, 30, has missed more games through injury this season than during his first at Old Trafford and his last at the Emirates, but says he is bearing up under the strains of English football as well as anybody.
"I can't say whether I am physically stronger now than four years ago or whether I am weaker," he continued.
"We all have pains and aches, but I am convinced that, for every player in the Premier League, it is a struggle to keep fit for a full year.
"The intensity in England cannot be compared to any other football country in the world.
"We have double cup competitions and, if your team is in Europe and you play international games, the workload is incredible.
"I can never stroll through a game. I play – it's that kind of intensity. After 99 out of 100 matches I am totally exhausted because I want to give everything I have.
"I will never moan about it. I have to handle it like all the other players, but I can tell you that top-level sport is not really healthy."