ANALYSIS
By Ben Hayward | Spanish Football Writer
How do you stop Lionel Messi? Coaches all over the world have thought long and hard in an attempt to discover an antidote to the Argentine's brilliance, but very few have managed it. Thwarting the four-time Ballon d'Or winner is almost impossible, it seems, yet one man has done it six times in a row.
Diego Simeone has had some fortune on his side during that time, but the Argentine's remarkable record against his compatriot is much more than just luck and certainly no coincidence. So how has he done it?
Messi made hay against Atletico for many a year, netting 20 goals in his first 14 fixtures versus the Madrid side. But since Simeone's arrival, he has found himself halted and is now without a goal in his last six games against the
Rojiblancos
: 431 minutes in total.
The first of those was a 2-1 win for Barca at the Calderon in La Liga last season. Messi started, but barely threatened. One defence-splitting pass almost let in Cristian Tello, but Diego Godin was alert to cut out the danger, while Messi also sent a free-kick straight at Thibaut Courtois before suffering a recurrence of his thigh problem and departing after 67 minutes. In his absence, Barca actually improved and turned the game around with only 10 men on the pitch as Alexis Sanchez levelled and Gabi scored an own goal.
The teams' next meeting was in the Spanish Supercopa, also at the Calderon. And as in the previous match, Messi was forced off with an injury - this time at the interval. While on the pitch, the Argentine played one clever pass through to Pedro and also fired a shot wide from the edge of the area. But that was about it. Neymar cancelled out David Villa's opener in the second half as the game ended 1-1.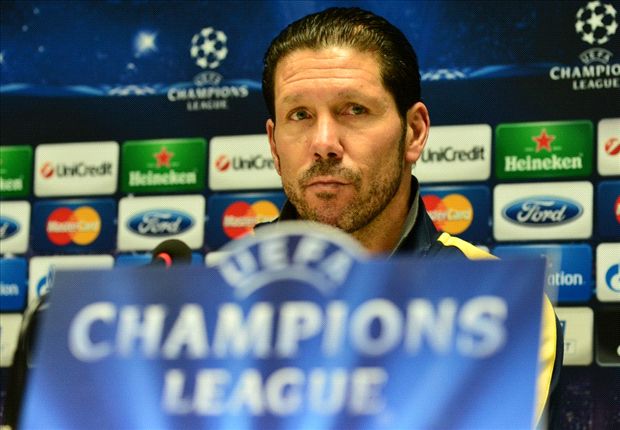 Deep thinker | Simeone's side have halted Messi in six successive games


Eight days later, Barca and Atleti met again at Camp Nou and Messi made a return to the starting XI. The Argentine began brilliantly and was denied by Courtois early on after latching onto a pass from Sergio Busquets. But the 26-year-old was caught up in a physical battle and complained to the referee at half-time. Less impressive in the second period, Messi was unable to find a way through even after Filipe Luis was sent off and also blasted a late penalty against the bar. The game ended goalless, but Barca won the Supercopa thanks to Neymar's away strike in Madrid.
In January, Simeone's side then frustrated Barca once again in another goalless game at the Calderon. Messi, recently recovered from the thigh injury which had seen him sidelined for most of November and December, was left on the bench by Gerardo Martino and introduced at half-time in place of Andres Iniesta. Productive in his 45-minute cameo, Leo left empty-handed in large part due to Courtois. The Belgian goalkeeper deflected one dangerous cross out for a corner and made a stunning save to repel a left-footed drive late on. Messi also headed wide and sent one precise pass through to Cesc Fabregas, who was quickly crowded out by Godin, Joao Miranda and Filipe Luis.
In the sides' Champions League quarter-final first leg at Camp Nou last month, the forward could consider himself unlucky as he was frustrated again by Atletico and, in particular, Courtois. The Belgian brilliantly saved a first-half header from the Argentine and produced a stunning stop late in the game to keep out a goalbound free-kick from the 26-year-old. Earlier on, Godin had timed a block to perfection after Messi found Iniesta all alone in the area, with the Spain midfielder looking odds on to score.
In the return leg, Barca boss Gerardo Martino tried something different as Messi began on the right, but the Argentine was a peripheral figure for most of the game. The 26-year-old headed wide early on and flashed a shot the wrong side of the post later in the first half, but rarely threatened and faded as the game wore on - even when he moved into the centre later on. Worse than that, post-match statistics showed he had run only 6.8 kilometres over the entire 90 minutes - a little more than half the distance covered by goalscorer Koke.
MESSI PROBLEMS AGAINST ATLETICO


Scoreline
W 2-1 (A)

D 1-1 (A)

D 0-0 (H)

D 0-0 (A)

D 1-1 (H)

L 1-0 (A)

Date
12/05/13

21/08/13

29/08/13

11/01/14

1/04/14

9/04/14

Mins
67

45

90

45

90

90

Goals
0

0

0

0

0

0

Simeone's side have played all six games with the same back four - Godin, Miranda, Filipe Luis and Juanfran - and the quartet have developed an almost telepathic understanding.
"Simeone has got the players playing with such commitment - he has made the team much stronger," former Atleti player and youth coach Quique Estebaranz told
Goal
. "The defence is a very strong unit and that comes through hard work. Simeone, with the way he manages the dressing room, has got these players fired up and playing for each other - that's their big secret."
Defending deep with discipline, organisation, maximum commitment, courage and, when necessary, foul play, the back four are supported by a midfield that squeezes the spaces between the two lines to minimise the through-balls and defence-splitting passes made in
La Masia
.
"Pressing from midfield is important," Estebaranz added. "They work extremely hard to close the spaces available to Messi. It's not just the defence, but a team effort with help from the midfielders to drop into those spaces and crowd him out."
Messi is therefore forced to drop deep or out wide to look for the ball and here his participation is automatically reduced. The Barca midfield, meanwhile, is made to resort to sideways passes or more speculative searching balls which are often mopped up comfortably by the Atleti defence.
And if all else fails, there is a last line of defence in the commanding figure of Courtois. "He is enjoying a fantastic moment," Estebaranz enthused. "He has been in wonderful form for two or three years now and he makes such a big difference to this team - let's hope he can stay much longer at Atletico."
Barca have long looked less comfortable against defensive sides and never relish a physical battle. Atletico, in the image of Simeone as a player, are ultra-competitive, extremely fit, hugely passionate and sometimes cynical, stretching the rules to the limit in order to stop rival teams.
"Teamwork is the key," former Atletico forward Veljko Paunovic told
Goal
. "Inside Atletico, things are working well and that's evident. It's the fruit of hard work, planning and organisation over the last few years. Simeone is a great leader in charge of a great project."
He did warn his former club, however, that concentrating on Messi could hand opportunities to others, such as Neymar, who has scored both of Barca's goals against the capital club this term and could return from injury on Saturday. "Messi hasn't been able to score because Atleti's defenders have been on top of him," he said. "But that reduces pressure and leaves spaces in other areas of the pitch for other Barcelona players to create dangerous situations and score - as Neymar has done."
So what will happen this time? Will Simeone's side prevail again or can Messi end his dry run against Atleti? With a title at stake on Saturday, one of the two Argentines will have the last laugh. So will it be Simeone or will it be Messi? The game of chess continues.
Follow Ben Hayward on