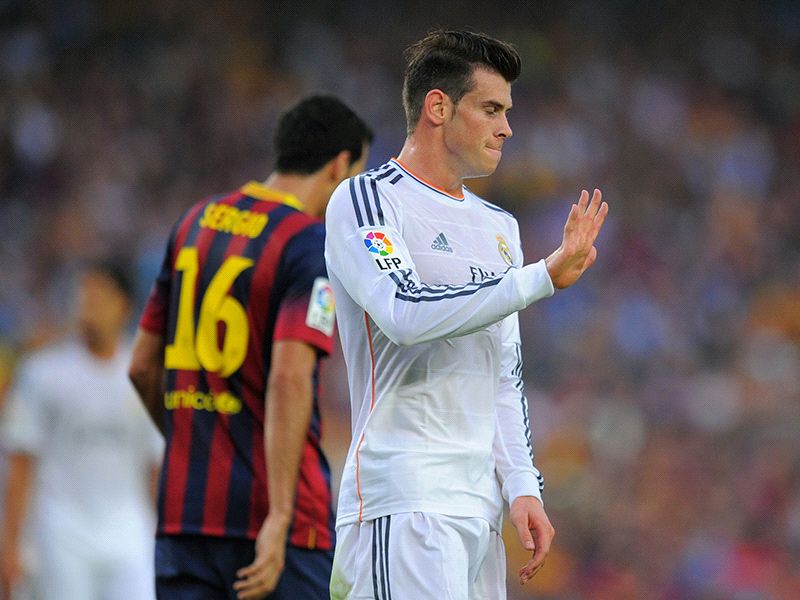 COMMENT
By
Paul Macdonald
Volatility at Real Madrid and Barcelona is commonplace, but even by their standards the shift of momentum from Catalunya to the capital has rarely been as seismic as in the six months since the last Clasico clash.
October 26, 2013. Barca are comfortable 2-1 winners at Camp Nou over a disjointed, prosaic Madrid. Carlo Ancelotti remains unsure of his best formation. Gareth Bale endures a disastrous debut, flailing around as the pitch swallows him whole. Cristiano Ronaldo is marginalised. Karim Benzema is again a failure. It appeared that, post-Jose Mourinho, this team were as far away from Barca as ever.
Because, for all of Madrid's negatives, you could only find positives springing from the Catalan camp. Neymar, the expensive summer arrival designed to take the strain from Lionel Messi, did exactly that, producing a man-of-the-match performance. The much-maligned Alexis Sanchez struck a stunning winning goal. And, crucially, Tata Martino had the confidence to have Messi operating from the right flank as part of his tactical approach, which worked to perfection. Overall it seemed that the status quo – Madrid muddled, Barca better – had remained constant, even if Pep Guardiola's era (and its continuation under Tito Vilanova) hadn't.
Attempting to explain to a disgruntled
Madridista
that evening that they need not worry, because by the time the teams meet again they'd be clear at the top of La Liga and over 30 games unbeaten, would have probably either landed you a raised eyebrow or a firm punch. But yet, incredibly, that's where we are. Four points behind to four points ahead.
FORM GUIDE: LAST 10 GAMES

BARCELONA
W 2-0 vs Sociedad
W 4-1 vs Sevilla
D 1-1 vs Sociedad
W 6-0 vs Rayo
W 2-0 vs Man City
L 1-3 vs Sociedad
W 4-1 vs Almeria
L 0-1 vs Valladolid
W 2-1 vs Man City
W 7-0 vs Osasuna


REAL MADRID
W 3-0 vs Atletico
W 4-2 vs Villarreal
W 2-0 vs Atletico
W 3-0 vs Getafe
W 3-0 vs Elche
W 6-1 vs Schalke
D 2-2 vs Atletico
W 3-0 vs Levante
W 1-0 vs Malaga
W 3-1 vs Schalke


Martino is now an assumed liability, the man who threatens
La Masia
's heritage as he plays the percentages with a team used to passing the opposition into submission. Sandro Rosell's Neymar debacle has not only left him disgraced and jettisoned but the player unbalanced and so without form that there is serious debate about whether he should be subjected to the heat of the Santiago Bernabeu. Alexis Sanchez is back to being nowhere near Barca quality. Victor Valdes' refusal to stay, coupled with Carles Puyol's retirement plans, have brought into stark contrast the fact that this cycle is coming to an end and, as it stands, it could end in ignominy. Everything that was good has become bad.
For Madrid, the transformation is staggering. Bale, world-record player that he is, seems comfortable in his skin again, shrugging off the sizeable doubt over his compatibility. Ronaldo is a rejuvenated Ballon d'Or winner. Ancelotti is a believer in 4-3-3, and everyone else is, too. Luka Modric is staking a claim to be considered one of the finest midfielders in the world. Benzema appears competent again. Ronaldo's even been forthright enough to state this week that Madrid "need to aim high" and "try to achieve their objective of winning three competitions." He has only won two major trophies at Madrid since joining in 2009 – it's difficult to overlook the sense of assurance emanating from the club at this moment in time.
How has this happened? It's as much to do with Barca's capitulation as it is Madrid's revival.
The sideshow of Mourinho is no longer there to distract and detract from the talent available. With the exception of the emphatic 2011-12 title win, Jose decided that defeating Barca in general terms meant that foul rather than fair tactics must be implemented. In a similar manner to his current curveball routine at Chelsea, he attempted to be the master of misdirection and probably in doing so did his players a disservice.
Ancelotti isn't interested in such boisterousness. The October performance patently didn't do the job, so he worked on making things better. No-one, with arguably the exception of Osasuna in December, has got near them since. The Italian should be commended for taking all other elements out of the equation.
However, it's curious how it has coincided with the type of implosion usually reserved, ironically, for Real Madrid. From a position of dominance to a descent into farce, the only way in which Barca's hierarchy have completely succeeded is in compromising everything that has taken a decade to create.
Javier Mascherano has pained to put forward the opinion that "Barca are not dead yet" but that 'yet' hangs in the air almost as an acceptance that it will soon come. Sunday evening could be that time.
Follow Paul Macdonald on