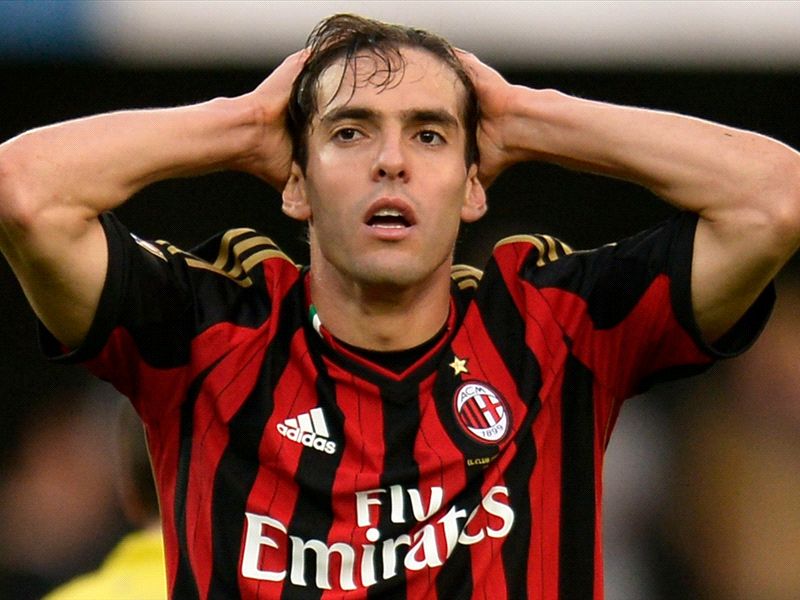 ANALYSIS
By Simone Gambino
For so many reasons, Tuesday evening's trip to the Vicente Calderon to face Atletico Madrid is a game like no other for Kaka. The Brazilian is the man AC Milan are counting on to drag them out of the hole they currently find themselves in and thus change the entire complexion of a season that is threatening to become a write-off.
Kaka knows the venue well. He silenced it in 2009, scoring in his first Madrid derby in the jersey of Real, while his most recent appearance at the Calderon came less than a year ago with the Brazilian playing his part in a 2-1 victory for
los Blancos
. Milan now need the same result, or something similar, to overturn last month's 1-0 loss to Atletico at San Siro in the first leg of their Champions League last-16 tie and soothe all of the suffering the
Rossoneri
have endured over the past six months.
Milan need Kaka, the best Kaka, not the version we've seen since Clarence Seedorf succeeded Massimiliano Allegri as coach in January. Indeed, the statistics clearly convey the severity of the crisis Milan's No.22 is currently going through: in his eight games under Seedorf, Kaka has neither scored a goal nor contributed a single assist.
KAKA'S SLUMP UNDER SEEDORF


ALLEGRI'S KAKA

GAMES PLAYED
GOALS SCORED
ASSISTS

17
6
3


SEEDORF'S KAKA

GAMES PLAYED
GOALS SCORED
ASSISTS
8
0
0

Those are undeniably worrying numbers, particularly when one considers that when Seedorf took up residence on the Milan bench, he intended to make his former team-mate the fulcrum of his side; a leader both on and off the field. However, the move to 4-2-3-1, a formation that Kaka also struggled with at Madrid, has adversely affected the Brazilian, who had been proving so effective under Allegri. Not only has he become less of a goal threat (Kaka struck six times in 17 games before Allegri was sacked), his overall influence has diminished, as demonstrated by the dramatic drop in the amount of touches he was making in central positions, which has fallen from 58 per game under Allegri to 51 with Seedorf.
The stats merely serve to back up what has been so noticeable to the naked eye: fewer sprints (though injuries have played their part in that regard), so many more chances missed (like in the recent Serie A defeat to Juventus), and the inevitable exile on the left wing in order to improve the balance of the team by accommodating the hard-working Andrea Poli, who guarantees better coverage and support in midfield.
Seedorf has never stopped considering Kaka a fundamental part of his Milan team, especially in key Champions League games. It was no coincidence that Kaka did not start against Udinese on Saturday - he was given the weekend off to recharge his batteries and ensure that he was in peak condition for Milan's date at the Calderon.
The risk, however, is that Kaka, if he does not rediscover the form he was enjoying during the opening months of the season, could become a burden that Milan simply cannot afford to carry. Seedorf is always trying to raise the pace of the
Rossoneri
's game and implement a more modern, 'European' style of football.
On a night of champions, when doubts remain over the character of Mario Balotelli, Kaka remains Milan's go-to guy. Given the former Ballon d'Or winner will be 32 next month, it's reasonable to argue that Kaka is currently drinking in the last-chance saloon and that Tuesday night represents one of his final opportunities to show the rest of Europe that the 'real' Kaka is not just a faded memory.
Follow Simone Gambino on