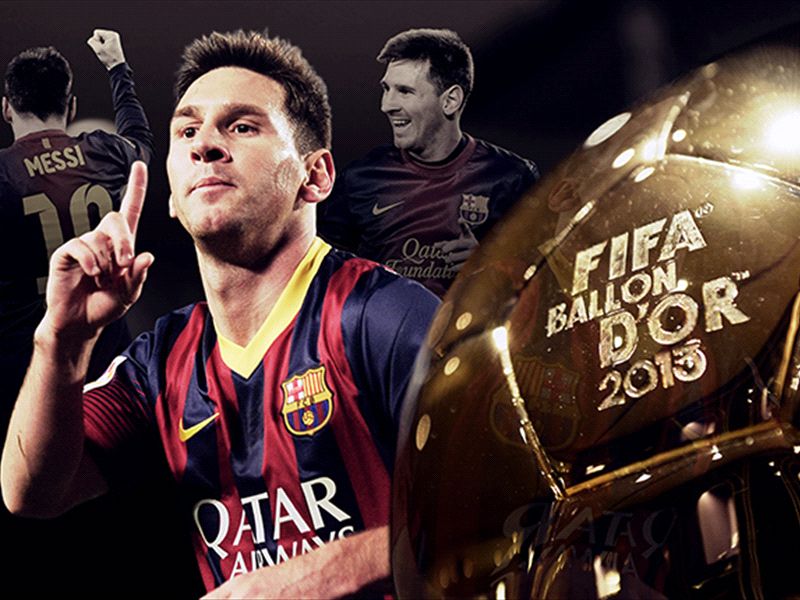 COMMENT
By Kris Voakes | International Football Correspondent
Cristiano Ronaldo was the world's most in-form player by the end of 2013, while Franck Ribery was the poster boy of the globe's greatest team over the calendar year. But above and beyond those achievements, Barcelona icon Lionel Messi proved once more that he remains the best there is and that he deserves a fifth straight Ballon d'Or title.
It was by no means a vintage year for the Argentine, with his attempts to back up a phenomenal record of 91 goals in 2012 being frustrated by constant injury problems from April onwards. But one should not immediately overlook the magnificent achievements he was still able to rack up in a truncated 12 months.
While Ronaldo spent most of 2013 flattering in the bigger games of Real Madrid and Portugal before his big moment in Stockholm in November, Ribery was part of a magnificent Bayern Munich side which would more than likely have swept all before them even had the Frenchman not been available to weave his own brand of magic. Messi, though, still shone enough to prove that he is the world's greatest footballer by some distance.
The Barcelona genius began the year on a run of seven successive goalscoring appearances in La Liga, which he would sustain until picking up a calf injury in April, in the process racking up a goal against every Spanish top-flight club in consecutive fixtures – an unprecedented and frankly sensational statistic.
MOMENT OF THE YEAR: BARCA 1-1 PSG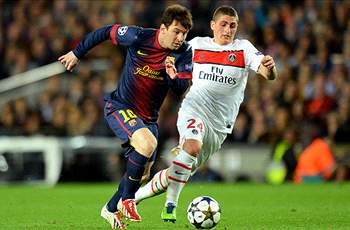 MESSI: SUPERSUB SENDS BARCA THROUGH

After Javier Pastore had given les Parisiens the lead, Messi was thrown on despite suffering from a calf strain sustained in the 2-2 first-leg draw. The substitution was to be crucial. With 19 minutes remaining, Messi ran at the PSG back four and caused confusion with a stabbed pass for David Villa, with Pedro hammering home the loose ball. Even on one leg, the Argentine remained the difference at Camp Nou.
Even when he was carrying injuries thereafter, he remained potent. It was away to Paris Saint-Germain in the Champions League quarter-final first leg that he picked up that first calf strain, but by the time he was forced off at half-time, he had already netted one of the away goals which would eventually see Barcelona through.
And despite being clearly unfit, Messi returned to the fray as a substitute in the second leg eight days later, with the Blaugrana heading out of the competition, and set up Pedro's crucial equaliser to end the French side's hopes of an upset once and for all.
That he didn't play again until the semi-final first leg against Bayern Munich said much about the complete lack of fitness of a man who rarely succumbs to injury. That he returned at all against the eventual European champions told us even more about how much Barcelona treasure his game-changing abilities.
As it turned out, the decision to select Messi for the clash at the Allianz Arena did nobody in Catalunya any favours. The star No.10 looked all of about five per cent fit, and Barca were stuffed 4-0 by a rampant Bayern.
Messi's season should really have ended there, but he insisted on continuing to play his part. The following weekend he came on to fire a key equaliser in the 2-2 draw at Athletic Bilbao which pushed Barcelona ever-nearer to the Liga title. By the time he had come off the bench against Real Betis to score the two goals which secured a 4-2 win, Messi had netted in 21 straight league appearances and was fast becoming the most destructive one-legged man on the planet. However, his next fixture was to be his last of 2012-13, with the trip to Atletico Madrid seeing him limp off with a thigh injury which would hamper his input in Argentina's summer calendar.
The start of 2013-14 saw little change in Messi's fortunes. A hamstring injury picked up in the Supercopa de Espana continued his tale of woe, yet his form had barely dropped. Two goals against Levante were followed by three more against Valencia, and when he failed to score away to Rayo Vallecano in September it was only the second time he hadn't registered in 26 league appearances stretching back to November 2012. In those preceding 25 matches, he had helped himself to 40 goals.
A further thigh strain collected in Almeria set him back further still, but he returned in to time score three goals over two legs against AC Milan to add to a Champions League hat-trick already netted at home to Ajax on matchday one. Yet the return fixture against the Italians would be his last full game of the year, with his hamstring finally giving way against Real Betis the following weekend.
His record of 42 goals for club and country over the course of 2013 puts many players to shame. Throw in the fact that they were scored in just 42 games, many of which were negotiated whilst carrying one knock or another, shows just what a special talent Messi remained despite a testing year.
The contribution of Ronaldo to Real Madrid's year and particularly to Portugal's World Cup crucial play-off win against Sweden, should not be doubted. But - that double-header apart - the former Manchester United player did not deliver on the biggest of evenings. In fact, he won nothing during the year, with even a home tie in the Copa del Rey final against Atletico not enough of an opportunity for him to drive his team on to a trophy. In fact, his red card in the capital proved costly.
One should also bear in mind Ribery's true impact at Bayern Munich, a club whose sustained brilliance came almost entirely due to the magnificent team structure put in place by Jupp Heynckes rather than the performances of any one playing individual. Philipp Lahm, Thomas Muller, Arjen Robben and David Alaba were all at least as worthy of acclaim as Ribery.
But when it comes to Ballon d'Or voting, it also should be remembered what each of the three players have had to overcome in the process of recording their respective achievements over the calendar year. And Messi delivered again and again despite the most testing 12-month period of his career to date. If anything, his feats in 2013 were even more astonishing than those of the previous year.