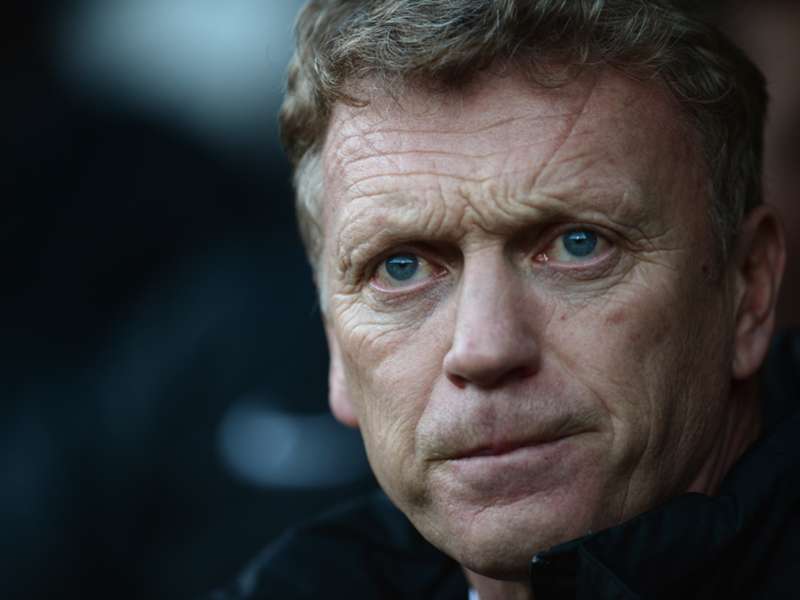 COMMENT
By Greg Stobart at Old Trafford
As
Manchester United
's season hit a new low, the most damning indictment of
David Moyes
' reign so far was that nobody was even surprised.
Wilfried Bony rose to thump in the winning header in the 90th minute as Swansea dumped United out of the FA Cup at Old Trafford.
United's fifth home defeat of the campaign, off the back of their worst start to a season in 51 years, was greeted by boos from many of those supporters brave enough to stay until the final whistle.
Just four days after losing here against Tottenham, this was yet another abysmal display from the Premier League champions, who were reduced to 10 men in the 80th minute after a nasty studs-up challenge from substitute Fabio on Jose Canas.
Old Trafford is a special stadium but teams are not scared of coming here now.
The fear factor evaporated when Sir Alex Ferguson called time on his 26-year reign last summer.
West Brom, Everton, Newcastle all had to wait decades before winning here this season, while Swansea's victory was their first at Old Trafford in the club's history.
Ferguson was again in the stands on Sunday and even he must be wondering what on earth happened to the same group of players that ran away with the league title last year.
The banner at the Stretford End reads 'The Chosen One' in reference to the fact that Moyes was hand-picked by Ferguson as his replacement on a six-year contract.
But even that may not be enough for Moyes to last beyond the season. After all, he has never won a major trophy and is now in charge of the biggest and most successful club in English football.
The Scot looks out of his depth, too reverential to Ferguson, too scared of how he is perceived by fans and the media.
He was not ready for the expectation of managing United, and his tactics have been found out time and again as teams come here and expose his side's considerable weaknesses.
Wayne Rooney, Robin van Persie, Phil Jones and Ashley Young all missed the Swansea game through injury, and the Welsh club took full advantage.
Javier Hernandez equalised for the hosts after Wayne Routledge's opener, but United barely forced visiting goalkeeper Gerhard Tremmel into a save in another dire display.
Not only are United losing, but they are doing it with turgid, uninspiring football. At one point in the second-half, when Tom Cleverley played his latest backwards pass, the whole stadium groaned before the chant of 'attack, attack attack' went up in the crowd.
Moyes' post-match observations suggested he was watching a completely different game to the rest of us.
"I thought we played well enough," he said. "I didn't think we deserved to lose but we did. We're just lacking a bit of courage when we get in to the final third at times.
"It's been a tough start, a tough period. I'm disappointed not to win more games and play better but I'm sure it will change."
Moyes was not helped, of course, by the club's terrible summer transfer window, when they failed to bolster a midfield lacking quality and still searching for an heir to Paul Scholes.
After missing out on Thiago Alcantara and Cesc Fabregas, United were only able to sign an average player in Marouane Fellaini for an inflated £27.5 million fee.
Moyes has claimed that United have no plans to sign any players in the January transfer window - but such inertia would only ensure the club's failure to qualify for next season's Champions League.
But Moyes is talking with an increasingly pessimistic tone about his chances of adding to the squad this month.
He said: "There's an urgency that we would like to bring people in but are those players available in January?
"The players we would like to bring in probably aren't available in January. It's not because we wouldn't like to do it, it's because they aren't available."
United have no chance of retaining the title and Moyes' sole focus now must be to finish in the top four.
But United's squad is weaker than those of rivals Liverpool, Everton and Tottenham, who have all beaten them this season.
In reality, they looks miles away from qualify for next season's Champions League.
The knock-on effect would be that it becomes even harder to attract signings, while the likes of Rooney and van Persie - already disillusioned at Old Trafford - could look to force moves away in the summer.
Even then, if the current trend continues, they could both outlast Moyes.
Follow Greg Stobart on