COMMENT
By Jay Jaffa
It is hard to believe that back in July 2012 – a summer of transition for Tottenham - there were more than a minority of dissenting voices suggesting Gareth Bale should be sold instead of want-away Luka Modric. It was never likely to happen such was the Croatian schemer's desire to depart White Hart Lane, but the overarching feeling suggested Bale could improve no further; he was expendable.
The beginning of this season appeared to back-up this claim as the Welshman and Tottenham, under the watchful brow of Andre Villas-Boas, stumbled under the starter's gun with just two points from a possible nine and back-to-back home draws in front of a mutinous home crowd still pining for Harry Redknapp.
GARETH BALE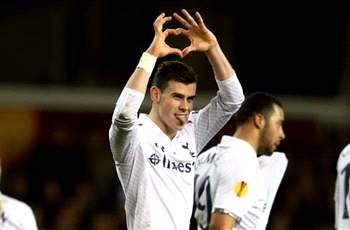 BALE'S SEASON SO FAR

GAMES PLAYED
GOALS
ASSISTS
36
21
12

AVERAGE PLAYER RATING


3.58
WHAT THEY SAY

"Gareth is brilliant. He has so much to his game and over the last season or so he has improved a lot. He is such an exciting player, but more than that, he has a good attitude as well.

"He can go far in the game. As a fellow Welshman I hope it is to the very top."

- Ryan Giggs

A week later, the Villas-Boas era kicked into gear as Spurs notched their first win of the season at Reading, Bale getting his name on the scoresheet as he adjusted to the revised position afforded him.
From here Bale has embraced the role of a team leader. Far from the traditional definition, he has led almost entirely through his on-pitch performances. He is not the most vocal but seemingly thrives on being the main man at Tottenham – an open goal following the departures of Modric and the talismanic Rafael van der Vaart.
Watching him this season has been breathtaking.
Villas-Boas has helped mould Bale into a more destructive entity; giving him the freedom to roam across the pitch and pick the ball up where he feels most comfortable, while the 23-year-old has grasped the chance to display a wider array of skills than we realised he had. Credit must go to both men.
As the goals continued to flow, including a startling 10 strikes in eight club games, comparisons to Cristiano Ronaldo were inevitable. And completely justified. Much like the Portuguese's breakout season at Manchester United in 2006-07 where he scored 17 in 34, this is the year Bale has blossomed into a true match-winner.
Labelling Spurs a one-man team has become more common and although it is simplistic to claim the north Londoners would be nowhere near the top six without him, the importance of his 16 league strikes is worth underlining.
In his recent splurge of 10 goals, Bale has directly won nine points with strikes against Norwich, West Brom, a pair against Newcastle and a late winner versus West Ham, as well as opening the scoring in a 2-1 win over Arsenal.
Given that people still thought his best position was left-back as recently as last season, for his quality and goalscoring ability to be taken for granted so readily says it all.
He is now affecting games more readily than ever before, partly as he develops his role and partly through his natural growth. Although he is now less a creative, team player, he is a game-changer and the stats speak volumes. Bale has netted 16 league goals and five in cup competitions, whilst also netting another four for Wales over the season, all compared to 10 league goals and two in the cups over his 47 games in 2011-12. His improvement has been phenomenal and onlookers struggle to come up with superlatives as much as defenders struggle to come up with challenges.
And he compares to the very best. The shift from winger to forward has somewhat masked his achievements when you compare him to the top goalscoring midfielders over the years. He has already matched Steven Gerrard's best ever haul in a league season and has beaten Frank Lampard's return in all but two seasons (16 goals in 2005-06 and 22 in 2009-10).
There is some way to go to better Ronaldo's tally of 31 goals in 2007-08 but he is just one shy of his 2006-07 record and two away from matching the former United forward's total in his final season. Simply put, he has elevated his game to the level of three of the Premier League's most prolific goalscoring midfielders.
Detractors will point to the literal translation of the Player of the Year award and cite Bale's quiet spells as evidence that it should go elsewhere. But they have been rare, and with April and May still to come, Bale has the time and capability to further his case. Should Spurs finish in the top four with a weaker squad than last season, few should moan if Bale wins the award.
Follow Jay Jaffa on