Paris Saint-Germain scored an incredible public relations hat-trick on Thursday, as they captured the spotlight on Transfer Deadline Day. Not only did they sign the world's most famous footballer in the form of David Beckham, they did so by getting the former England international to agree to forego any pay and give his wages to charity. Most cleverly of all, though, they hurried through the capture of the ex-Real Madrid and AC Milan player when there was no need.
Beckham's free agent status meant that he could have arrived into February, and that there was no need for the manic 15-hour rush that saw the deal start to fall into play 22 hours before the window shut at 01:00 in the morning. By rushing the move through, PSG successfully snatch the media focus on a day in which football clubs enjoy more blanket coverage the world over than any other – save perhaps August 31.
In many ways, though, this sums up the Beckham transfer saga for
les Parisiens
. It is a move motivated more by publicity than what the player can bring to the field during the twilight of his career.
"I don't know if Beckham is [being signed] for footballing reasons or his image," promising midfielder Adrien Rabiot - pushed to Toulouse on loan on deadline day - confessed to
RMC
with distinct undertones that he believed it to be the latter.
OLD HEAD


DAVID BECKHAM FACTS

AGE
CAREER CLUB APPS
CAREER CLUB GOALS
ENGLAND CAPS


ENGLAND

GOALS

37
705
129
115
17

Certainly, it is difficult to see the former Manchester United and Real Madrid player having much of a chance to shine during a five-month sojourn in France. Although he continues to keep himself in immaculate condition, it will be tricky for the 37-year-old to adjust to Ligue 1, which is the most physically intense of Europe's elite divisions barring the Premier League, after two months without any top-level action.
By the time he is match fit, the season will be over and his contract will be up.
Beckham's rhetoric indicates that he still feels like a 21-year-old, yet the change in his use indicates that he is not the 'Spice Boy' - as he has been dubbed in France - who once stepped out for Man United and announced himself to the highest level with an outrageous 60-yard lob over Wimbledon goalkeeper Neil Sullivan.
His role on the field is more now withdrawn, a la Andrea Pirlo, and though during his press conference he was right to add that his game is not based around pace, PSG cannot afford any passengers. His talent for passing and over set pieces, plus his vast experience will mean he is an asset to the squad, but to break into the starting XI on merit will be a challenging task.
Although Rabiot, Momo Sissoko and Mathieu Bodmer were offloaded by
les Parisiens
on deadline day, there is still intense competition for places deep in the PSG midfield, where it is likeliest Beckham could slot in. Blaise Matuidi and Thiago Motta will not be moved when both are fit, and then there's the little matter of talented young Italy international Marco Verratti, who is presently the outstanding
regista
on PSG's books and is regarded as one of the outstanding prospects of the world game.
Beckham admitted that he "does not expect to be a starter" in Carlo Ancelotti's side and the signs are that he will not be – at least not on a regular basis.
PSG are a club who have developed quickly, and while he could have been shoehorned into the team a year ago, a sprinkling of quality additions all over the field make this move seem dated. Beckham will, of course, give them more legitimacy in certain markets and will draw further press attention, but the short-term nature of this deal may well serve for casual fans only to glance briefly at their efforts - a curiosity rather than a long-term interest.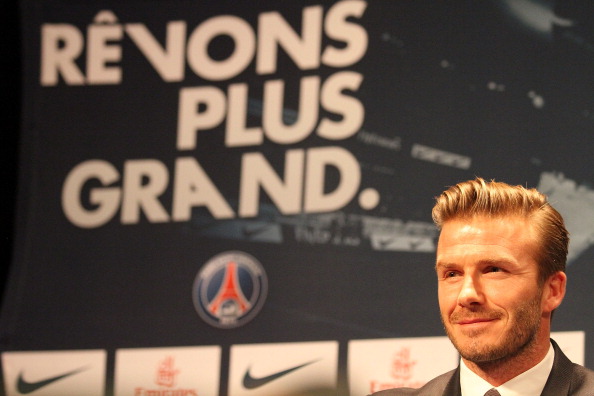 Dream Bigger | Beckham embodies PSG's current philosophy
That players of the calibre of Zlatan Ibrahimovic and Thiago Silva – men presently at the very top of the game - were attracted in the summer, should be considered a greater sign of progress on the field but also to some extent off it, too. Both are committed to the long-term project taking place in Paris and are liable to be central to it in the foreseeable future, and though Beckham has hinted towards a long-term role with the French club, it is clear that discussions over this are still in their infancy.
Pushing the cynicism over the former England captain's ability to carve a niche in this team aside, however, his decision to forego his wages for the sake of charity is an act that can only be heralded with the utmost praise during a time in which footballers are earning exorbitant sums as much of Europe struggles in the grip of a financial crisis.
It would have been easy for such a figure to have picked up an extremely significant sum of money in his last great adventure, and even allowing for the fact that he has enjoyed a glittering career and the trappings that come with it, to give such an opportunity up to those less fortunate must be commended.
For this alone the 37-year-old will leave a positive legacy on Paris and will bring the people of the city closer to its only major club, yet it looks unlikely that he will have such a startling influence on the playing side of matters.
Follow Robin Bairner on