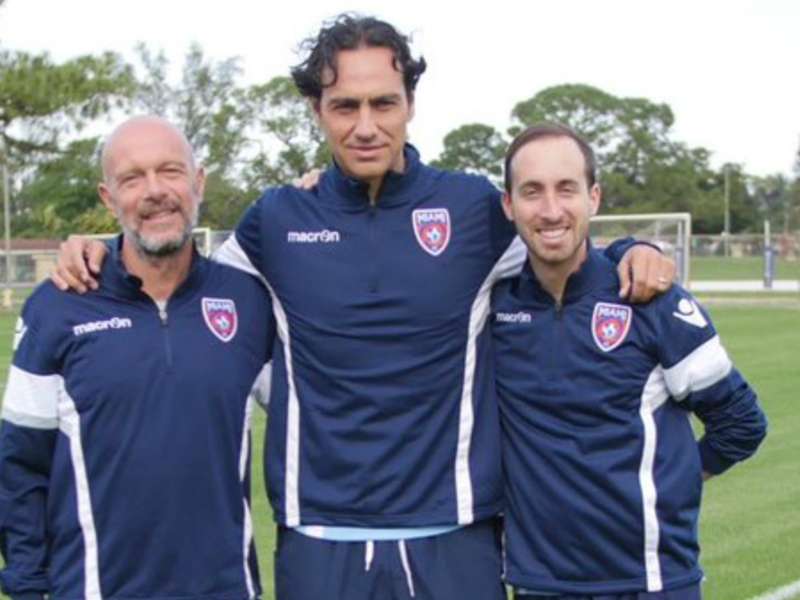 ---

EXCLUSIVE
---
Richie Ryan is hoping to learn as much as he can under the tutelage of Miami manager Alessandro Nesta.
Ryan recently swapped Jacksonville Armada for Nesta's North American Soccer League (NASL) team and the former AC Milan star said that he was excited to have acquired the Irish midfielder.
And Ryan, who went straight into the team for the game against Carolina RailHawks at the weekend, revealed that it was "an honour" to be playing under the Italian and that it was something he would take great pride in doing.
"Two names that I never thought I'd hear in the same sentence to be honest! My name and Alessandro Nesta. For someone who has done what he has done in the game to be interested in you is a privilege," the former Ottawa Fury captain said on the Goal Ireland podcast.
"I never really thought I'd be working with someone like that in my career, so it's an honour to be here and a chance for me to learn more about the game from someone who's won pretty much everything in the game.
"Since I've been here, he's been very professional in the way that he works and on the training pitch he is very intense in the way that he coaches; he wants everything to be of a high standard, which you would expect from someone who has been at the level he has in his whole career.
"The one thing I've noticed - I know we've been struggling - but his calmness before the game on Saturday night," continued Ryan.
PODCAST: @richieryan20 talks about his big move to @TheMiamiFC, working with @Nesta & more! https://t.co/nn6K36LSzg pic.twitter.com/jq1gqB63wi

— Goal Ireland (@GoalComIreland) May 19, 2016
"The last thing he said to us was 'go out and enjoy yourselves, it's football it's not war so go out and enjoy yourselves and play football with a smile on your face'. To hear that coming from someone like him, it makes you feel a little bit more relaxed.
"[I can learn] everything. As a footballer you can learn from every manager. Every manager has a different style of playing and different mannerisms that you can pick up on to make you a better player.
"I think everybody at the club can learn from the manager's experiences and hopefully turn that into a team that can push for the play-offs by the end of the season.
"To get this opportunity at 31 to work with someone who has won everything in the game, it's a privilege and something that i'm going to embrace and take great pride in."
---

LISTEN TO THE GOAL IRELAND PODCAST
---
The show can be listened to on Soundcloud and is available on iTunes.

Follow @GoalComIreland
//