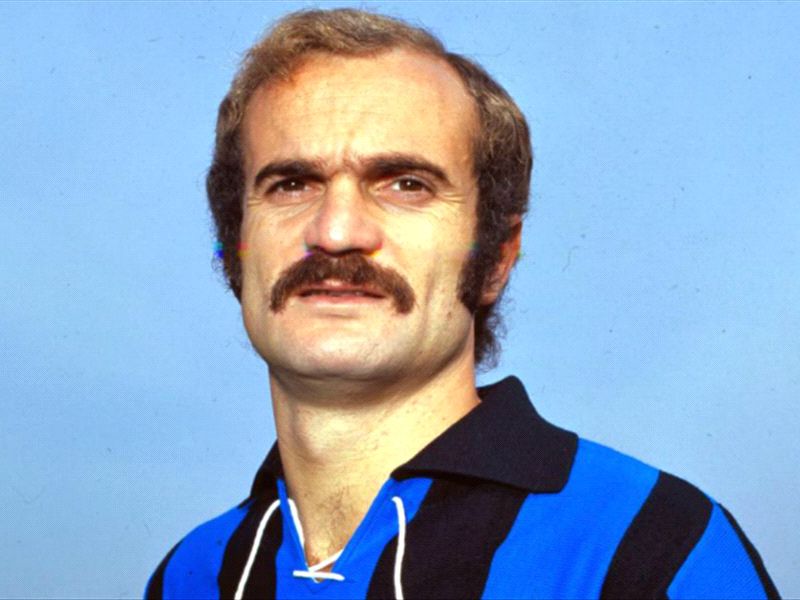 ---

EXCLUSIVE
---
As the son of an Italian footballing icon, Sandro Mazzola had a lot to live up to when he joined Inter at the age of 18. However, by the time he finally called time on his professional career after 17 years at San Siro, Mazzola had left behind a legacy to rival that of his father Valentino, the star of the legendary Torino side who so tragically lost his life along with 17 of his team-mates in the Superga air disaster.
Blessed with blistering pace, fantastic dribbling skills, wonderful vision and a keen eye for goal, Sandro played a key role in the rise to prominence of '
La Grande Inter
', who won back to back European Cups, in 1964 and 1965. Hardly surprising, then, that Mazzola ranked so highly in our list of the 20 greatest players ever to represent the Azzurri, with the 73-year-old coming in fourth.
Here, in an exclusive interview with
Goal
, he discusses his time at the Giuseppe Meazza with characteristic humility and reflects on some of the most memorable moments of his illustrious career.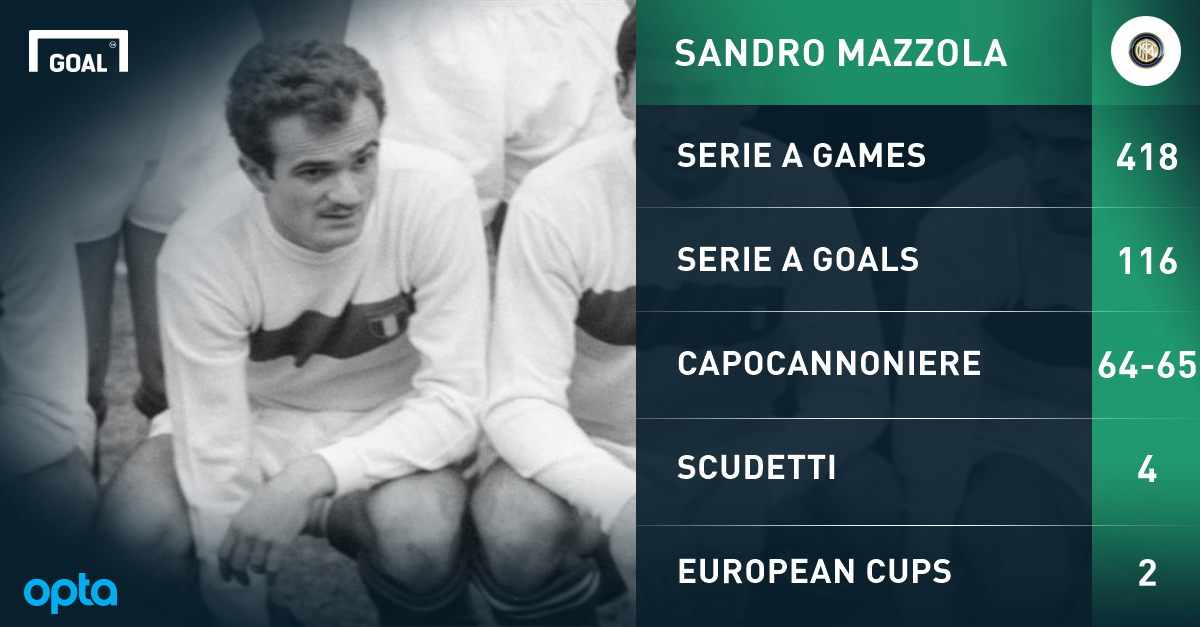 Goal:
How does it feel to be named as one of the 20 best players in the history of Inter?Mazzola:
"It's definitely a nice feeling and a great source of pride because a lot of years have passed and people tend to forget. The fact that people still remember me is pleasing. Evidently, I did something good for the Inter shirt!"
G: What is you most beautiful memory of your Inter career?
M: "There are so many because, modesty aside, we can say that we [
La Grande Inter
] wore the Inter shirt with pride around the world. If I have to pick just one, though, I would say certainly the first European Cup win (1963-64) as it was claimed against one of the strongest Real Madrid sides in history. They had won five consecutive titles (1955-1960) and only just been beaten in the final by Benfica (1961-62). We pulled off a great feat and it was an enormous joy for us."
G: What are your memories of that night?
M: "For me, playing against those kind of players was a dream come true. At the time, there were not many televisions, so I had to go to the restaurant beneath my house to watch the games. I would buy a drink and just sit there and watch the games. But it wasn't like today when they show all the games. You saw only the finals and Real Madrid were always in the final! So, for me, to face those players on the pitch was truly something special."
G: It was, of course, the Real Madrid of Di Stefano and Puskas...
M: "Yeah, I loved Di Stefano because he reminded me of my dad. In fact, after the game, I ran towards him to try to get his shirt, but then Puskas approached me and said: 'You're like your father,' and then handed me his jersey. Obviously I took it with great pride and I must say that even today it is one of the jerseys with which I have the greatest attachment."
G: Indeed, Puskas' shirt was not a bad one to get!...
M: "Oh, no, certainly not! We're talking about one of the best attackers in history. In so many years of watching football, I have never seen anyone with a left foot as splendid as his."
G: Do you see any modern players like him?
M: "It is always difficult to make comparisons to players these days, because this is a faster, more tactical game today. After all, in the old days, attackers were all technicians, everyone knew how to dribble and beat an opponent. Now, sometimes it seems that it's enough just be fast, to just launch the ball forward and run after it. I must say, however, that I see a little of myself in Cristiano Ronaldo. Every time I see one of his fakes, I say, 'I also used to do that!' At the time we were not as fast, but I had quick feet, thought quickly and was certainly not lacking technically. So, I was a little like the Portuguese today, who is blessed with athleticism and class."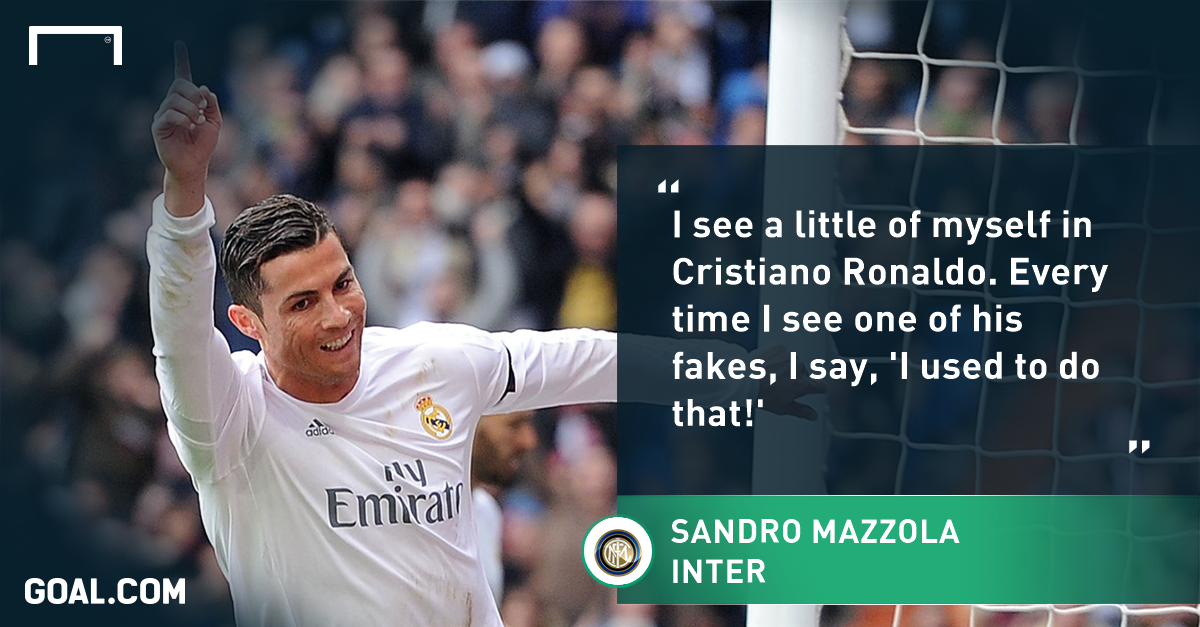 G: Is there one game that you would like to replay?
"Definitely the European Cup final defeat by Celtic (1966-67). As I said before, at the time you didn't get to see all the games and it wasn't good that we didn't always know our opponents so well. Our coach went to see one of their games and returned with a tape. Now, I do not know if they did it on purpose to trick us, but I remember that I watched the game and thought, 'These guys are mediocre.' Then, the day before the final, we stopped to watch them in training and even then, they seemed totally disorganised. Everyone was doing what they wanted. We thought it would be an easy game and it was the biggest mistake we could have made!"
G: Was it a bit like the Inter of today, who maybe got ahead of themselves after a strong start and are now struggling?
M: "Maybe, yes, I agree, because I did not expect this decline. I have the feeling that it's not a physical problem but psychological, that they were convinced that they were stronger than they are and have lost an edge mentally. And when this happens, then it's difficult to regain that concentration and humility."
G: Were you more surprised by the spectacular start to the season or the unexpected recent dip in form?
M: "I would say the recent fall, because I had faith in the team and especially their coach; I like Roberto Mancini a lot. He's a man of character, one that looks everyone in the face and is direct with his players. Tactically, he's one that knows his stuff and then has experience and international status."
G: So you're not afraid that third place will slip out of Inter's grasp?
M: "I think at the end Inter will earn a place in the Champions League. I am confident because Inter have great players but, above all else, I trust in the coach, who I think is one of the best around."
G: But to return to winning ways, what would this Inter need?
M: "A little more quality in midfield. Inter have many good players but no one who is capable of taking the game by the scruff of the neck and playing the killer ball. In a word, Inter lack creativity. In my time that was something none of the big teams were ever missing; imagination and technique were fundamental and more common, perhaps because we played in the street when we were kids, sometimes even with cans and stones because footballs cost too much. In this way, we honed our technique. Today, however, young people are brainwashed with tactics and you sometimes see players who are not able to make a five-metre pass!"