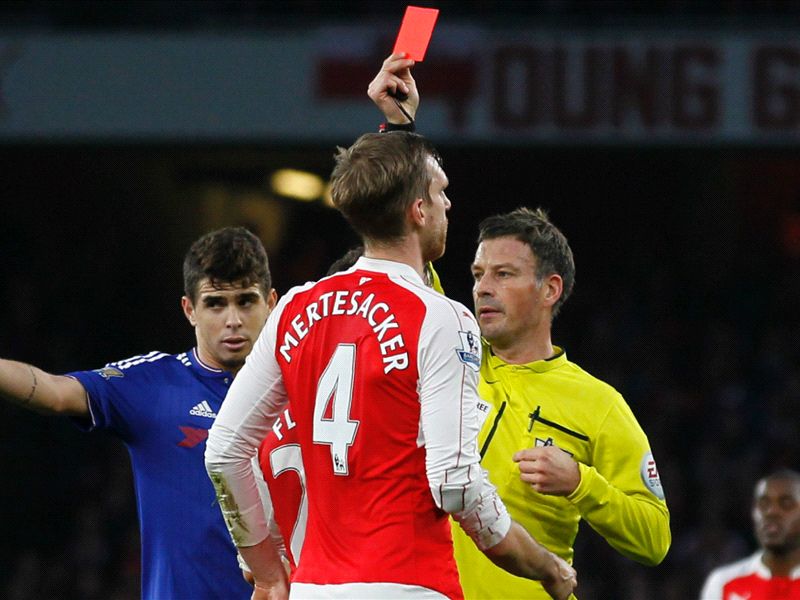 Arsenal
manager
Arsene Wenger
claimed
Chelsea
's
Diego Costa
was at fault for
Per Mertesacker
's sending off in their 1-0 defeat on Sunday, despite the seemingly clear-cut nature of the foul.
Costa had been sent clear through by Willian's pass in the 18th minute, with Mertesacker chopping the striker down as the Spaniard sped towards goal. Still, Wenger took issue with what appeared to be an easy decision for referee Mark Clattenburg.
"He got him sent off - you cannot say it's not true," Wenger told
Sky Sports
. "Costa has had two of our players sent off in two games... so he is clever.
"In the first game he got Gabriel sent off, today he got Mertesacker off. Was the tackle irregular or not? Did he touch him? I'll have to watch it again - but a fact is a fact.
"I am not accusing him (Costa) of anything - it's just what happened."
Mere minutes after the sending off, Costa got on the end of Branislav Ivanovic's cross at the front post, finishing first time to score what would be the only goal of the match in a feisty encounter.