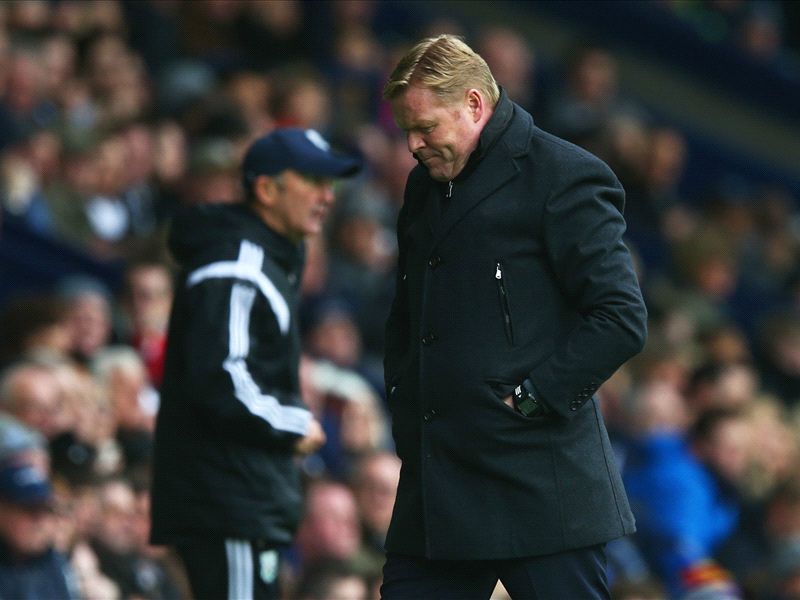 Southampton
manager
Ronald Koeman
insists he was always realistic about his side's chances of qualifying for the Champions League but vows to keep focusing on performances following the 1-0 defeat at West Brom on Saturday.
The Saints fell behind to Saido Berahino's second-minute strike and were unable to find a way back into the match even after Koeman switched from his original 3-5-2 formation just 25 minutes in.
Koeman's men are now four points off fourth place in the wake of two defeats in the last six days, but the Dutchman says he will continue to concentrate on his team's performances rather than their league position.
"I was always realistic, never I was thinking that we would qualify for the Champions League because [there are] a lot of big teams who normally fight for that.
"We try to win more points than we did last season and if we play our way of playing then we will see what happens.
"We are not focused on the position on the table, we are focused on our football. That's the best solution and at this time it's still the best solution."
Koeman, who also defended his initial system and vowed to use it again, refused to criticise striker Graziano Pelle, who is now 10 Premier League games without a goal, but did admit all of his players are currently suffering.
"The whole team performance is a little bit down on the beginning of the season," he added. "We try to change that, change players, positions, we have a little bit less confidence than we had.
"When I have to do the line-up again I will do the same," he said of his 3-5-2 shape. "We played this season two or three times with this system and we won every game, the players know the system, we have players to play it. But at 1-0 down every time we had three defenders against one attacker and that was the decision I made to change because at 1-0 down it changes the game."
West Brom boss Tony Pulis admitted he was unaware the Saints would use a wing-back formation until shortly before the match, but believes his side coped well after a reshuffle of their own.
"They changed the shape of their team and we didn't realise that until an hour before so we changed ours a little," he said.
"We had a little diamond in midfield with Morrison and Gardner wider and Yacob and Fletcher backing them up and they did it brilliant. I was really disappointed that they changed their shape back, and when they did they caused us more problems."
Pulis also praised match-winner Berahino, who was dropped by the Welshman earlier in the season over his low defensive work-rate and some controversial statements to the press about his future.
"It's a wonderful strike, a wonderful goal, there's no questioning his talent, he has-top class talent. He's realy bought into what we're trying to do off the ball in the last couple of weeks, he works really hard. He had an injection just to play today.
"He's the icing on the cake, he's the extra bit of quality that every team is looking for."