David Ospina
may be only 25 years old, but the new
Arsenal
goalkeeper has as much experience as many players six or seven years older than him.
A first-team regular at Atletico Nacional at 17, he made his Colombia debut at 18. Bigger clubs in South America and Europe began showing interest. Nice acted swiftly, signing Ospina in 2008 (he was 19) as the long-term replacement for Hugo Lloris, who left for Lyon that same summer.
Ospina was initially a back-up for experienced Nice goalkeeper Lionel Letizi but he forced his way into the first-team in a matter of months. As Frederic Antonetti, Nice coach at the time, said: "He has everything you need to be a top goalkeeper. He's good in the air and he's good on the ground. He has that little extra something to be a champion. Hugo Lloris was an international-standard goalkeeper; so is David."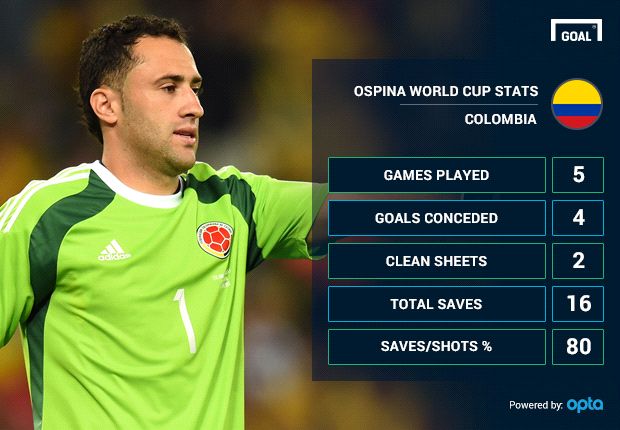 An undemonstrative character on the pitch, Ospina was diligent off it, learning French (he is now almost fluent). He has football connections in the family – his sister, Daniela, is married to Colombia's World Cup Golden Boot winner James Rodriguez. Rodriguez's move to Monaco last summer meant the international team-mates played their home games just 15km apart along the French Riviera.
The defining moment in Ospina's career came two years ago, when he told Nice he needed a new challenge after four years. In readiness for Ospina's departure, Nice coach Claude Puel signed a promising young French goalkeeper called Joris Delle, and announced Delle would be Nice's No.1.
Ospina nearly joined Besiktas but the move fell through. As the summer dragged on, it became increasingly apparent he wouldn't be moving on after all. When the transfer window shut he was still a Nice player – and now found himself as the club's No.2 goalkeeper.
Ospina responded in exactly the right way – he got his head down and worked hard. When Delle's form wobbled a couple of months into the season, Ospina earned his recall to the first-team and grasped the opportunity.
From that moment on he has gone from strength to strength. The stats speak for themselves – in 55 Ligue 1 games from the start of 2012-13 to the end of 2013-14, Nice conceded just 50 goals (0.91 a game) while Ospina was in the side. In 21 games without him in the side, they conceded 40 goals (1.90 a game).
Puel - who was "astonished" Ospina didn't make the four-man shortlist for Ligue 1's 2013-14 Goalkeeper of the Year award - says summer 2012 was the turning point for the Colombia international. "Until then, he was in his comfort zone - and, like any sportsman, if you're not trying to progress, there's always a chance you can go backwards. That aborted transfer and Joris Delle's arrival brought out the best in him. As a result, he now works very hard in training; he's more conscientious. He's consistently performing at a very high level."
French football followers have seen Ospina broaden his game. Always an agile shot-stopper, his decision-making about when to come off his line and when to stay is now much better. He makes fewer rash mistakes and appears to have a greater command of his penalty area. Ospina is a calm figure – at times he can almost seem too quiet – but he moves with more authority and collects the ball more decisively than he did in his first four years in France. And his kicking has improved – there are fewer wayward long balls and his touch is more assured in confined spaces.
If there is a weakness, it is his ability in the air. He's brave, but his height (he's only six foot) is an obvious point of concern. This potential flaw in his make-up is more likely to be exposed in the Premier League than in Ligue 1.
Yet after two wonderful seasons at Nice and an impressive World Cup in Brazil, Ospina will soon be in the Premier League – where, in a delicious twist, he will line-up against Lloris, the man he replaced at Nice, in north London derbies in the months ahead.
He may not be as good as Lloris yet, but he's mature, has vast experience, proved he can adapt to new surroundings, shown an enormous capacity for improving his game and is nearly two years younger than the man that will be at the opposite end when Arsenal play Tottenham.
At around £3 million, it's easy to see why Arsene Wenger sees the signing of Ospina as a smart piece of business.