Primera División
'Zlatan took up too much space at Barca' - Ingla reveals 'friction' between Ibrahimovic & Messi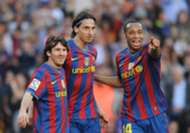 There was "friction" between Zlatan Ibrahimovic and Lionel Messi during the former's short stint at Camp Nou, according to former marketing director Marc Ingla.
Barca snapped up Ibrahimovic from Inter in the summer of 2009, with Samuel Eto'o heading in the opposite direction as part of the deal.
The Cameroonian had enjoyed considerable success in Catalonia, but he was considered to be past his peak.
Zlatan eyes 'two or three' cups with Utd
Ibrahimovic agreed a five-year contract with the La Liga giants, but would see out just 12 months of that deal.
He did score 21 times in all competitions and add a Spanish top-flight title to his glittering CV, but the Swede struggled to settle in new surroundings.
Now on the books at Manchester United, Ibrahimovic has admitted since leaving Barca that he failed to see eye-to-eye with Pep Guardiola – with a breakdown in that relationship edging him towards the exit.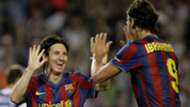 Ingla, though, believes that an inability to integrate alongside club talisman Messi also cost the powerful forward an opportunity to prove himself over a prolonged period of time at Camp Nou.
Now working for French side Lille, Ingla told Telefoot: "Why it did not work for Ibra at Barca? Zlatan is a beast, a machine – but he was next to another, smaller machine.
Only Ronaldo compares to Zlatan
"Ibrahimovic was too static, Messi needed more space. Zlatan took up too much of it.
"There was a bit of friction, I think."
Ibrahimovic left Barca to return to Italy with AC Milan, where he would spend two seasons before joining the ambitious project being pieced together at Paris Saint-Germain.