CECAFA Senior Challenge Cup
Zanzibar danger man benched against Kenya for Cecafa final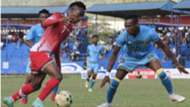 Zanzibar midfielder Hamad Makame will start from the bench in Cecafa Senior Challenge Cup final against Kenya.
Makame's place has been taken by Mohammed Issa Juma, who returns to Zanzibar Heroes starting lineup to face the host at Kenyatta Stadium in Machakos.
Zanzibar Starting XI: Mohammed Abrahman Mohd, Ibrahim Mohd Said, Mwinyi Haji Ngwali, Abdulla Salum Kheri, Issa Haidar Dau Abdulazizi Makame Hassan, Seif Abdallah Rashid, Mudathir Yahya Abass, Ibrahim Hamad Ahmada, Mohammed Issa Juma and Suleiman Kassim Suleiman (Captain).
Reserves: Ahmed Ali Suleiman, Nassor Mrisho Salim, Mohd Othman Mmanga, Adeyum Ahmed Seif, Ibrahim Abdallah Hamad, Abdullah Haji Shaibu, Hamad Mshamata Makame, Khamis Mussa Makame, Abdul swamad Kassim Ali and Feisal Salum Abdallah.