NPFL
Yobe Stars improve squad with two new signings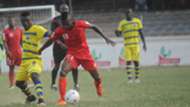 Yobe Desert Stars have announced the capture of Jacob Johnson and Terkaa Melai and both players will stay with the Damaturu side until the end of the season.
The head coach of the team, Ngozi Elechi disclosed that Johnson and a goalkeeper, Terka Melai were acquired to beef up the team to ensure that they are more competitive in the second stanza of the season.
The Damaturu side are presently at the bottom of the top flight in Group B with seven points from nine matches and Elechi who has lost two of the three games ultimatum he was given by the management of the team hinted that the signing of the two players and the release of two further players: Christian Charles and Paul Godwin emphasized their determination to excel in the second round.
"We have signed two new players: Terka Melai and Jacob Johnson who have joined us to help us improve our squad. We have the players to do the job but the games we have lost were due to some errors that we committed," Elechi told Goal.
"It is our belief that these new players and others in the team will help us rediscover our form and we shall start getting the type of results we have been working for since the beginning of the season. We really worked very hard to have a good preseason but individual errors have been responsible for some of the results we have got.
"These two players have been tested and I want to say that the players that we released are also very good but they have found it difficult to adapt to our philosophy. We wish them well in their next step in life. We must move on."   
Yobe Stars will be hosting Go Round in their final fixture for the first stanza of 2019 NPFL season.