MLS
Yaro speaks on Accam reunion at Philadelphia Union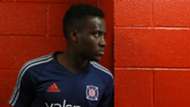 Philadelphia Union defender Joshua Yaro is excited to have linked up with compatriot David Accam following the latter's recent switch to Talen Energy Stadium.
The duo are set to play together once again after their time at Ghanaian outfit Right to Dream Academy.
Last month, Accam made a three-year switch to the Union, having been on the books of Chicago Fire for the past three seasons.
"The team is coming together, everyone is trying to get back into shape and execute some of the things we have been taught throughout the year from last year," Yaro told his club's official website.
"I think it's great having David on the team.
"He's a great guy and an established guy in the league. Everyone knows he's a great player and he's someone who's going to add a lot to our team.
"It's an exciting season, an exciting group and I'm, really excited to see how far this team goes and how we do."
The Union acquired Accam as a designated player in exchange for a total of $1.2 million in allocation money.
His exploits at Fire are beyond commendable.
The winger, who joined the Men in Red from Swedish side Helsingborgs in 2015, netted 33 MLS goals, in addition to registering 15 assists.
Aside from finishing his first two seasons as the club's top scorer, he was also successively adjudged Fire's Most Valuable Player.