Africa Cup of Nations Qualification
'With all the tax we are paying!' – Kenyans react as Harambee Stars turned to a 'day scholar' team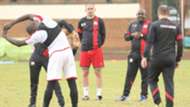 Harambee Stars made good their threat as they trained and returned home with only six days remaining to the crucial Afcon qualifier against Ethiopia.
The squad of local based players, trained on Thursday under the watchful eye of coach Sebastien Migne at Utalii Hotel and are expected to return again on Friday as they prepare to depart for Addis Ababa on October 6.
FKF Media Liaison Officer Barry Otieno confirmed to Goal that they are yet to get the support from the government. "The squad trained and returned home. We are expecting them again on Friday. We also waiting to get tickets as the team needs to depart for Ethiopia on Saturday."
The move has forced Kenyans to attack the government on social media with the hashtag #WhyAlwaysSportsKe, for neglecting the national team, that stands a good chance of reaching the 2019 Afcon finals, if they get a positive result in the two-legged affair against the Walya Antelopes.
With All the Tax we are paying as Kenyans, We cannot have a Situation whereby Players of The National Team #HarambeeStars are Day Scholars, commuting to and from Camp without training allowances. Put Our tax to good Use. @UKenyatta @moscakenya@kenya_fkf#WhyAlwaysSportsKe pic.twitter.com/sZgp0qHCz8

— Nubian King 👑 موسطف (@MussObattal) October 4, 2018
Dear @WilliamsRuto you promised that the national team head coach salary was to be paid by the govt you represent after we won CECAFA last year. Your guy is yet to get a dime three months into his work. Can you please stop investing in heaven and sort him out #WhyAlwaysSportsKe

— Oguda (@zaxoguda) October 4, 2018
Harambee stars belong to the government of kenya. #WhyAlwaysSportsKe pic.twitter.com/1aGHHpm3yK

— Mosh (@Mosh_Junia) October 4, 2018
Where are all these politicians that yap congratulatory messages when our true heroes, our athletes are shining? @SakajaJohnson I see you at football matches. I hope you're doing something behind the scenes for our boys. #WhyAlwaysSportsKe #Africasportstalks

— Cynthia Mumbo (@CynMumbo) October 4, 2018
What was the budget for Harambee Stars? #WhyAlwaysSportsKe pic.twitter.com/46O9a6lyf4

— alex ngare (@AlexNgare) October 4, 2018
The Harambee Stars coach has not received a salary for four months now, yet the ministry of sports promised to take care of the bill#WhyAlwaysSportsKe pic.twitter.com/fizmAGLGqw

— Francis Ngira (@francisngira) October 4, 2018
Kenya is so broke to afford Harambee Stars' accommodation, and air tickets to Ethiopia for the 2019 AFCON qualifier, yet Billions in taxes from betting firms lay untouched at the treasury. How? #WhyAlwaysSportsKe pic.twitter.com/gtXzPubHqc

— Francis Ngira (@francisngira) October 4, 2018
It's only in Kenya where The mps travelled for benchmarking to Russia during the world cup meanwhile Harambee stars can't afford money to send to keeps to wanyama and others #WhyAlwaysSportsKe pic.twitter.com/XH6WpnmM9h

— kelvin mutwiri (@KelvinQevoh) October 4, 2018
As we troop to hail foreign teams in the upcoming #InternationalBreak, this is what we have to contend with back home. #WhyAlwaysSportsKe pic.twitter.com/49vqSAQ18e

— Kerubo Momanyi (@VioMomoney) October 4, 2018
One step forward.. Ten steps backwards.. When will have the 5 Stadias.. sports academies.. Sponsorships for national team.. Kenyan Youth very dissapointed#WhyAlwaysSportsKe
#
.@UKenyatta pic.twitter.com/L9hlGOVunC

— Dedan (@dedang) October 4, 2018
Look at the fckry at Sports Kenya. This is the Kaberia guy who said we lack stadiums but should host major tournaments because we have better hotels. I'm not surprised #WhyAlwaysSportsKe pic.twitter.com/PIAkiuwt7Z

— Oguda (@zaxoguda) October 4, 2018
It would be impossible and unethical to hold the #HarambeeStars Coach Responsible in case we do not Qualify For we have not paid him His salary for the last four months. #WhyAlwaysSportsKe #SimamaNaHarambeeStars pic.twitter.com/20Sj2UuojJ

— Nubian King 👑 موسطف (@MussObattal) October 4, 2018
No tickets for foreign based players to enable them travel from their respective clubs to Ethiopia

No tickets for local based players to enable them travel to Ethiopia#WhyAlwaysSportsKe #HarambeeStars pic.twitter.com/zdm93Jx952

— Nubian King 👑 موسطف (@MussObattal) October 4, 2018
Where are all these politicians that yap congratulatory messages when our true heroes, our athletes are shining? @SakajaJohnson I see you at football matches. I hope you're doing something behind the scenes for our boys. #WhyAlwaysSportsKe #Africasportstalks

— Cynthia Mumbo (@CynMumbo) October 4, 2018