Opinion
Will Yusuf's Walcott syndrome cost Nigeria at the CHAN?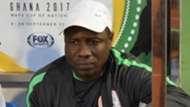 Back in 2006, Sven Goran Eriksson was forced to defend his sanity to the British media after his decision to include Theo Walcott in England's World Cup squad.
The Swedish coach opted to plump for Walcott—then aged 17 years and 53 days—ahead of Jermain Defoe, a decision that prompted ridicule in the press.
Not only had Walcott never been capped by the Three Lions before receiving a call-up, but he'd never before made a Premier League appearance for Arsenal, and Erkisson sheepishly admitted that he'd never before seen the forward play.
It proved to be a costly decision, particularly as Michael Owen limped out of action during the group stage and an unfit Wayne Rooney saw red against Portugal as England fell in the quarter-finals.
As the Three Lions, impotent in attack, laboured for a goal against the Selecao das Quinas, Eriksson opted not to use Walcott…while Defoe and Darren Bent, who had scored 22 goals for Charlton Athletic in the preceding campaign, watched on from home.
Perhaps Eriksson harboured hopes that Walcott, in time, would become a world-class star and he would receive credit for having the foresight to have placed his faith in him from such a young age.
Almost 12 years on, and you could count Walcott's truly effective games for England on one hand, while he ended his frustrating spell at Arsenal by moving onto Everton this week.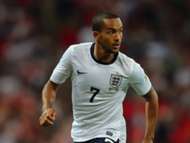 Ahead of the 2018 African Nations Championship, Nigeria coach Salisu Yusuf has largely sidestepped the ridicule aimed at Erkisson back in 2006 despite his, ostensibly, even more baffling decision to include wonderkid Muhammed Nur in his squad.
Nur, only 15 after being born on December 2 2002, was included in Yusuf's CHAN squad despite never yet making an appearance in the Nigerian Professional Football League.
It's intriguing that the Nigerian press haven't come down as hard on Yusuf as the British media did on Eriksson all those years ago, for Nur, two years younger than Walcott was in 2006, represents an even greater gamble.
To date, the starlet's only experience has come with El-Kanemi Warriors' feeder side, and while his opening showing against Rwanda—he was handed a seven-minute cameo after replacing Sunday Faleye—was encouraging, does his inclusion risk leaving Nigeria short going forward?
"[Nur] is a young guy, the youngest in the team," Yusuf told journalists after the match. " He has great potential, he's very intelligent and very crafty at times.
"I believe he'll grow to be a very important player for Nigeria."
That he may become a star is true, but ultimately irrelevant when it comes to picking a squad to win the African Nations Championship.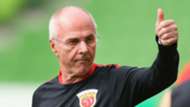 At least when Eriksson picked Walcott in 2006, he did so surely confident in the knowledge that his squad was full of goals.
As well as Owen and Rooney, Peter Crouch was an attacking option, the kind of which many World Cup defences wouldn't have known how to deal with, while Joe Cole, David Beckham, Steven Gerrard and Frank Lampard all offered goals from midfield.
For a Super Eagles team where goalscoring may well be a problem, the decision to opt for Muhammed ahead of the likes of Sikiru Olatunbosun or Kingsley Eduwo, or any MFM FC player, represents a major gamble by the coach.
His squad selection has placed significant pressure on the shoulders of Anthony Okpotu, who may offer intelligent movement and fine finishing, but was fairly comfortably negated by Rwanda's defenders in Nigeria's opener.
After struggling to make an impression against the Amavubi, how will he fare against Libya, or even the likes of Morocco, Sudan or Zambia in the challenges to come?
Faleye, for all the promise he showed against Rwanda, remains inexperienced and will require time to adapt to life with the CHAN Eagles.
It was intriguing that, when the moment did come for Yusuf to shuffle his pack and introduce fresh legs going forward—as the Amavubi held firm—he turned to Nur and not to Gabriel Okechukwu.
The latter's inclusion in the Nigeria squad has the potential to mitigate for absentees such as Olatunbosun and Eduwo, with the Akwa United forward demonstrating his undisputed qualities—including finishing and hold-up play—in the Aiteo Cup final.
However, Yusuf opted for Nur, while Okechukwu remained on the bench.
In truth, it was an encouraging cameo for the youngster, who appeared remarkably composed and inventive considering his age.
Like Faleye, however, he's a new face within this team, and while there were moments that alluded to his creativity and instinct, it's too much to expect the youngster to hit the ground running in Morocco.
Perhaps, unlikely Walcott, Nur will emerge as a talent worthy of such a gamble one day, but at the time of writing, in a Nigeria side that appeared so toothless against Rwanda, his inclusion represents a high-risk decision by Yusuf…and one that threatens to leave Nigeria short.