UEFA Champions League
Wiko Game Changer: Cristiano Ronaldo annihilates Atletico Madrid at the Bernebeu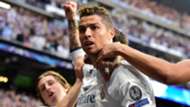 In the last 10 days, Real Madrid has watched, in part-panic, as Cristiano Ronaldo showed a few cracks in his armour. Against Barcelona, at the Santiago Bernabeu, the forward was struggling to find any rhythm, misfiring his shots including one on open goal that he blazed over the bar.
Zinedine Zidane rested him for the 6-2 drubbing of Deportivo La Coruna, but he returned for the tie against Valencia, where he scored the opener, but later missed a penalty.
But Champions League nights at the Santiago Bernabeu are special. And it took only 10 minutes, in the semi-final first leg against Atletico Madrid, to prove that Ronaldo was back to his best. In his last Champions League match, the 32-year-old netted a hat-trick against the mighty Bayern Munich. And he repeated the feat on Tuesday evening against Atletico.
An attempted volley at goal was mishit by Casemiro. Instead, it crashed into the ground and bounced up sharply, its misdirection making it a perfect cross that Ronaldo rose highest to head home.
Over the years, Ronaldo has become more mature in his playing style – though he still remains explosive. On the night, it was an exhibition of the Ronaldo of old, a care-free athlete dribbling with pace and trickery in abundance. When his speed couldn't outrun an opponent – rarely the case – he'd throw in a step-over or two to throw off his defender, cut to the side and deliver an inch-perfect cross.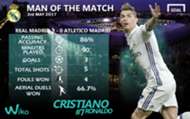 Still, at 1-0, the game remained poised and the tie was still alive for Atletico to recover in the second leg when they play in the comforts of Vicente Calderon. But Ronaldo changed that later in the 76th minute. Somehow, he won the ball back from Filipe Luis who had almost done enough to stop Ronaldo's progress.
The tussle forced the ball to bounce over Ronaldo, who stood composed, ready to smack home a volley. A few defenders rushed in to block, while Jan Oblak in the Atletico goal tried making himself big. But there was no stopping the ferocity and accuracy in the shot.
And still, he wasn't quite done yet. Real 2, Ronaldo 2, there was a hat-trick on the cards. Surely, 13 minutes later, Ronaldo charged forward with the ball and cut it to the right, continuing inside for the return pass. He made no mistake when it came.
It was his 42nd hat-trick in a Real shirt, and second consecutive one in the Champions League. On the previous occasion, his three goals secured a berth for his team in the semi-finals. On the night, he's almost put them into the summit clash in Cardiff.