NPFL
Wikki Tourists confirm Jatto Benjamin signing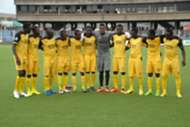 Wikki Tourists head coach, Aliyu Zubairu has confirmed the signing of impressive teenager, Jatto Benjamin as they head to Kano for a pre-season tournament.
Zubairu revealed that Benjamin is among the strikers they are relying on in attack position fill the void left by Shammah Tanze and others that secured a move away from the Bauchi side and that they are certain that they will score lots of goals by the time the season starts.
He said the striker was discovered when he travelled to Jos to watch a tournament and that the attacker wowed him with the way he tormented opposing defenders and that Benjamin has been showing the glimpse of what he did in Jos at their training sessions before it was agreed that he should be signed.
The former Akwa United coach noted that he is doing his best to ensure that the Giant Elephants rank among the best in the top flight and that they have been working assiduously to ensure that the Bauchi side do not have issues with the relegation zone as it was last season.
"We have fortified our team with Benjamin Jatto and he is a player we spotted from an academy in Jos," Zubairu told Goal.
"We are making attempt to sign players that can take the place of those that left to other clubs. We have some other players that we are looking at and we are going to make a decision as soon as we are convinced with them. We want to make Wikki Tourists a team that will be hard to beat.
"It is the reason we have accepted the proposal that will take us to Kano to engage in some friendly games. We are not going to leave any stone unturned in our bid to raise a formidable team ahead of next season."
Zubairu confirmed that Wikki Tourists will be making use of 40 players including five from the feeder team.