Liverpool
Wijnaldum admits to defensive difficulties after shock Klopp selection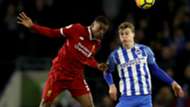 Georginio Wijnaldum admits his selection in Liverpool's defensive unit at Brighton was as much of a shock to him as everybody else.
The Dutchman is usually deployed in a midfield role by the Reds, having made his name in the middle of the park.
Jurgen Klopp was, however, to see his options depleted by illness ahead of a Premier League trip to the Amex Stadium.
That forced the German coach into a tactical rethink and left Wijnaldum having to learn on the job as he joined Dejan Lovren and fellow midfielder Emre Can in a three-man back line.
The 27-year-old told reporters after helping Liverpool to a 5-1 win: "It was difficult, especially the first half because I have never played there, but the manager was running out of options with players who were sick. So Emre and I, we had to play there.
"For Emre it wasn't that different because he has played there before, but for me it was difficult because you need to know when to close spaces.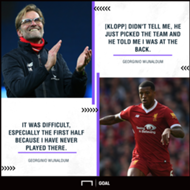 "The first half was really difficult, but the second half was good.
"We were training a day before the game, [Klopp] didn't tell me, he just picked the team and he told me I was at the back. 
"He picked the first XI and told I me I was at the back. Normally I am a player who can play in different positions, but never in defence. 
"The manager was running out of options and he picked me and Emre. It was really hard in the first because I didn't know what to do every time."
Klopp believes his shock selection against Brighton actually worked in Liverpool's favour, as it helped to keep everybody on their toes.
He said: "Our line-up surprised everybody. It's a good moment that we can do things like this. They adapted and did the job. We need to adapt with plenty of different systems - that's how it should be."
While their makeshift side proved too strong for Brighton, Liverpool will be hoping to have everybody back in contention this week as they prepare for a Champions League clash with Spartak Moscow and a derby date with Everton.