Mexico
Why right back Raul Lopez could hit it big with Mexico in Vegas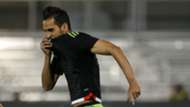 LAS VEGAS — Everyone who comes here thinks they're going to hit it big, but Raul Lopez has reason to think his trip to Las Vegas will pay off.
The Pachuca right back is one of two players on the Mexico roster to face Iceland on Wednesday who could potentially suit up on the right side of Juan Carlos Osorio's preferred 4-3-3 formation. Along with Tigres' Jesus Duenas, who also plays in midfield, there were no other players who profile as right backs called up. And with this contest being a one-off match, it's likely that Lopez will see a fair amount of minutes in this friendly.
The 23-year-old stands to gain more than the majority of his teammates this week. While most players are looking to fill out depth spots in Osorio's squad for March's World Cup qualification matches against Costa Rica and Trinidad and Tobago, Lopez has an outside chance at getting into the starting XI.
Bayern rejects Barca offer for rising star Tillman
With Paul Aguilar's injury continuing to sideline the Club America man and Carlos Salcedo, who manned the right back spot in November's qualification victory over the United States, struggling for minutes at Fiorentina, a right-back option would be welcomed. Even so, the Pachuca defender didn't think a call-up for Wednesday's friendly was in the cards until he got word that he was in the squad.
"You always hope for a call but I didn't know. I was surprised by the call," Lopez said. "I was working well, but I didn't think I was going to be selected this time."
Along with Duenas, who came on in the second half of Mexico's draw with Panama in the second qualifier of the November window, Lopez is one of the few Mexican players of international caliber playing right back. But his genuine surprise at returning to the senior fold after making his debut in 2015 against El Salvador speaks to his current club situation.  He's not out of favor at Pachuca necessarily, but he's not a lock to start for coach Diego Alonso with Tuzos, either.
"It's a dream. The truth is it's what I want," Lopez said after receiving the call-up. "I have to work hard to win a spot, day-by-day, game-by-game here in Pachuca and with the national team try to do as well as I can."
His set-piece prowess likely won't be used with Mexico, but the team could use a player who can get forward on the right and play in the team's strikers - whether it's Alan Pulido on Wednesday or Javier "Chicharito" Hernandez with Mexico's top team. His thundering right foot could help as well, taking long-range shots in the style of Miguel Layun at the other fullback spot.
Lopez should be able to cope with a Scandinavian-based Iceland' team's attacking threat Wednesday, but his defending could be a liability against teams like Costa Rica who boast more potency in attack. His ability to get forward, though, could have Osorio pondering a March recall if he plays well this week.
Lopez has little to lose as one of the only right backs Osorio has called ahead of the friendly. It doesn't always feel like it, but even breaking even qualifies as winning in Vegas.