Liverpool
Henderson facing the biggest challenge of his Liverpool career
He's no stranger to challenges, Jordan Henderson, and it's a good job.
Because as Liverpool prepare for a defining winter, one which will tell us plenty about the strength and substance of Jurgen Klopp's team, their captain faces a battle of his own. Yet again, it's time to roll those sleeves up.
Henderson is expected to be fit for his side's trip to Watford this weekend, having shaken off the hamstring complaint which kept him out of England's rousing Nations League win over Croatia.
It's the start of a critical period for Liverpool, with vital games at every turn. After Watford come Paris Saint-Germain. December will feature no fewer than eight fixtures, with Everton, Napoli, Manchester United and Arsenal among them. First up in January? Manchester City at the Etihad.
Exciting times, testing times. Times which will require the Reds to be at their best, their most resilient. Klopp's squad, strengthened at significant cost over the past few months, will be needed in full. Within it, senior players will be required to step up and deliver.
Henderson, of course, falls into that category. Soon, he will pass 300 Liverpool appearances, closing in on the likes of Terry McDermott, Gerry Byrne and Kevin Keegan in the club's all-time list. His next outing will take him level with Ian Rush on 113 games as Reds captain.
Impressive accomplishments, even more so when you consider how he has spent the majority of his Anfield career; battling criticism, fighting for acceptance, convincing (or failing to convince) doubters. Social media may amplify the debate, as it tends to, but has there ever been a more divisive player?
At this point, it should be pointed out that Henderson's critics come from outside the club. Klopp loves him, just as Brendan Rodgers and Kenny Dalglish did before him. Steven Gerrard adored him, as did Jamie Carragher.
"One of the best professionals I ever worked with," Carragher told Goal before May's Champions League final. He tells a story about bumping into Jose Mourinho at Stamford Bridge; the then-Chelsea manager spent five minutes raving about Henderson.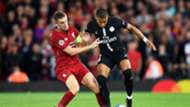 "A team always needs someone like Jordan," Dejan Lovren says. There have been more talented players at Liverpool, for sure, but you won't find a team-mate with a bad word to say about the Wearsider.
England managers, too, value his qualities. Fabio Capello gave him the first of his 48 caps, and he has remained an influential figure under Roy Hodgson and Gareth Southgate, despite being a regular target for the Twitter trolls and, worse still, the 'sports banter' accounts. Did you know he passes sideways sometimes and that he isn't as good as Steven Gerrard? LOL!
Anyway, Henderson's importance to Liverpool remains. A new five-year contract, signed in September, drew groans in some quarters, but for Klopp it was a no-brainer.
"Jordan is so important to us and we are very fortunate as a club to have this person commit to us as he has," he said.
"He carries a lot on his shoulders that people on the outside won't see, but he embraces that responsibility and that leadership. He is our 'General' and I trust him completely."
These are genuine sentiments. And certainly last season, when Liverpool thrilled in marching all the way to the Champions League final, Henderson played a key role. Not perfect, by any means, but his displays against Manchester City in the quarter-final first leg (he was suspended for the return) and in both semi-final games against Roma rank among his finest. Unfortunately, Luka Modric & Co. proved a bridge too far in Kiev.
That, in many ways, has been the story of his Liverpool career; so near and yet so far.
Since moving to Merseyside in 2011, Henderson has lost in each of the four major cup finals and finished an agonising second in the Premier League, as well as being beaten in a World Cup semi-final. The League Cup, won under Dalglish in 2012, remains his only medal. It's also Liverpool's last piece of silverware.
Close, but not close enough.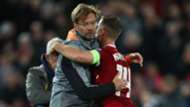 How he would love to change that, to get his hands on a trophy this season. The Reds, by objective assessment, have not been at their best this season, but they remain in a fine position both domestically and in Europe. They have a chance.
For Henderson, the first task is to remain fit and healthy. Liverpool's style of play demands intensity and sharpness, and if there is a worry with regards to their captain, it is the amount of games he has missed through injury in recent seasons.
Since the 2014/15 campaign, when he played a career-high 54 matches in all competitions, Henderson's 'marathon man' reputation has been eroded. He played 26 of a possible 63 games the following year, then 27 of 47 in 2016/17.
Last season brought 41 appearances from 56, with Klopp doing his utmost to manage the 28-year-old's games accordingly. Those injury concerns have also played a part in his conversion from shuttling, box-to-box midfielder to a more disciplined, defensive-minded No.6.
"I'm not particularly into people giving me credit," Henderson has said. Good job, you might say. "If somebody doesn't see his value, then what can I do?" is Klopp's take. "How can he not be a brilliant footballer?"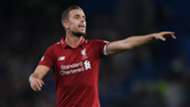 The manager tends to back up his words with actions but Liverpool's summer recruitment, with midfield duo Fabinho and Naby Keita brought in for a combined £90 million (€101m/$116m), brought with it fresh questions over the captain's role at Anfield.
With Gini Wijnaldum and James Milner, as well as Adam Lallana and Alex Oxlade-Chamberlain, at the club, competition for midfield places is as fierce now as it has been for some years. Klopp's recent experiment with a 4-2-3-1 formation adds an extra layer of intrigue. His team is evolving by the week.
Time to shine, then, for Henderson, and time to prove he can be a part of the present and the future, as well as the past.
A big challenge? Absolutely. But he's faced those before, you know…