Transfers
Who is George Hirst? The Man Utd target following in famous family footsteps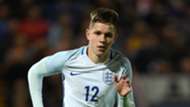 The man Manchester United repeatedly tried to sign before turning their attentions to Eric Cantona stands on the touchline of a training-ground pitch in December 2016.
Sheffield Wednesday's under-18s are leading Barnsley 2-1 with around 10 minutes to go and David Hirst, a legend in the eyes of Wednesday fans, grimaces slightly as the home side's star centre-forward fails to get on the end of a right-wing cross. "George should be getting to the back post there," he muses.
The number nine in question is George Hirst, the former England international's son, who has already bagged one goal that morning and would go on to score 40 in total for club and country at youth level in 2016-17. His dad, who had been coaching another Wednesday youth team on the next pitch, has rushed over to catch the closing stages of his protégé's fixture. A week later, Hirst junior would make his league debut as a substitute for Wednesday away to Reading with the world seemingly at his feet.
Such achievements are nothing new in this family, with David having bagged goals for fun during his own career to the extent that Sir Alex Ferguson offered Wednesday £4.5 million for him in 1992 only to be rebuffed by Owls boss Trevor Francis. Hirst senior's career would fizzle out thereafter amid a string of serious injuries before his eventual retirement in 2000 at the age of just 32, and he insists to this day that it is his biggest regret not to have forced a move.
"I was playing for Sheffield Wednesday, third in the league, in Europe, cup finals, good wages, but a Man Utd player comes with a different tag," he later told the Daily Mail. "It is the one thing I regret. Sitting here now, I should have banged the manager's door down."
Now the younger Hirst could be set to follow in his father's footsteps save for one notable diversion. Wednesday boss Jos Luhukay has admitted that there is little the club can do to stop the 19-year-old from signing for Manchester United, with the Red Devils showing significant interest in a player whose playing style bears a remarkable resemblance to his father's.
Like his dad before him, George has a rare eye for goal and hits the channels with a blistering turn of pace. While he favours his stronger right foot over the left side which had made David's name at the top level, his father's distinctive running style is replicated in every step. He also has proved to be a great threat in the air, with his dad's regular guidance helping him to perfect the art of the standing jump which was a key asset of the elder's game.
The trouble right now is that Hirst has barely played all season. The youngster has been at the centre of a contract dispute since before last summer, with Wednesday chairman Dejphon Chansiri claiming that the player's agents, Doyen Global, had demanded a record package when the parties met to thrash out a new deal.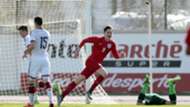 "Our offer to George was declined by the player's advisors and when we asked them to submit a proposal to us, we found they were requesting the basic salary of an established first-team player at our club, plus completely unrealistic bonuses, clauses and add-ons," said Chansiri. "We therefore had no choice but to decline this proposal, not because of the money, but in the interests of fairness and squad morale."
The result was Hirst being excluded from selection for the final year of his current contract until a softening of the club's stance in February amid an injury crisis, with the striker netting a goal in his comeback game against Leeds United's under-23s.
He does, though, continue to make waves among the England under-19 ranks, joining Chelsea's Mason Mount and Arsenal's Eddie Nketiah on the scoresheet in his country's recent 3-0 win over Latvia. Previously he shared the top scorer's mantle after netting four goals as England won the Toulon Tournament in 2017, and he has scored 14 in 27 games for his country across under-17 to under-20 sides.
During his period out of favour at Hillsborough he also seems to have filled out into a more combative striker's shape too, with his previously slender frame now being complemented by the upper-body power which became one of his father's key weapons during his 11 years with Wednesday.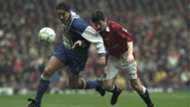 Despite having not played for the Yorkshire side's first team since that run-out at Reading 16 months ago, Hirst remains one of the most sought-after talents of his age group thanks to his outstanding attributes. In a time when strikers scoring goals for fun are an increasing novelty, George's ability to find the net has caught the attention of plenty of clubs, not least United.
His contract situation has seemingly done little to stunt his progress given his seamless return to action over the last six weeks and, while the Bosman ruling does not apply to youngsters of Hirst's age, United would be free to extricate him from Wednesday for a minimal development fee.
While he might not be of a level to step into the first-team arena just yet, he would be a valuable addition to a United under-23s setup which has been severely lacking a natural centre-forward since Will Keane was netting with regularity in early 2016.
Hirst signing for Manchester United is a deal 26 years in the making, but it might finally happen this summer.