Primera División
What's wrong with Ronaldo? Madrid avert crisis talk but Cristiano's goal drought goes on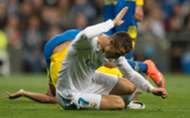 That was more like it from Real Madrid. After successive losses against Girona and Tottenham over the past seven days, Zinedine Zidane's side duly dispatched Las Palmas at the Santiago Bernabeu. However, it was another difficult evening for Cristiano Ronaldo.
Casemiro gave Los Blancos the lead at the end of a dull first half, the Brazilian popping up to score his team's very first headed goal of the season. In 2016-17, they netted 40 in all compeitions, so it has been a long time coming.
Ronaldo 6/4 to be CL top scorer
A thunderous strike from Marco Asensio made it 2-0 after the interval, as the young Spain star rifled a left-footed effort into the top corner after Las Palmas had partially cleared from a set piece.
Ronaldo then contributed a lovely assist for Isco as he curled in a delightful ball for his team-mate to fire home the third on the break, but he could not even break into a smile as his team-mates celebrated the goal.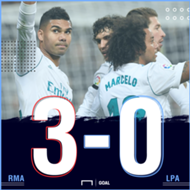 Asensio has scored more goals from outside the box than any other La Liga player in all competitions this season, with four strikes from distance in 2017-18. Ronaldo can't seem to score from anywhere.
The Portuguese has hit only one goal in the Primera Division this term, away to Getafe, and that came after a glaring miss in the same match. He has, quite simply, not been himself since missing five games from suspension earlier on in the campaign.
To give an idea of his problems in front of goal, the 32-year-old has had 48 shots so far in La Liga and scored just once, while his Barcelona rival Lionel Messi has 12 goals from 69 attempts.
It was not for the want of trying in this match. Ronaldo cut in and curled a lovely effort just over in the second period and fired another just the wrong side of the crossbar later on, as well as hitting two free-kicks into the wall.
In total, he had eight attempts and could not score any. On a different day, he would have had a hat-trick.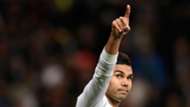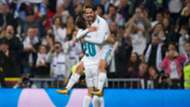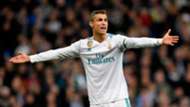 Karim Benzema is not scoring either and there were whistles for the France forward when he was substituted by Zidane. Real Madrid's recent malaise has not been helped by the fact that their two strikers are failing to convert.
Ronaldo is still scoring in the Champions League, the Portuguese having netted six from four fixtures in Europe this season. However, Madrid need him to start converting in La Liga as well.
The return to winning ways was the most important thing of all for Zidane after back-to-back defeats for the first time in his tenure and the Frenchman will now hope he can get some of his injured players (including Dani Carvajal, Keylor Navas and Gareth Bale) back to fitness in the international break, in time for the trip to Atletico later this month.
In the meantime, he will also hope Ronaldo's recent drought can end as soon as possible, because the Portuguese has only one Liga goal in 630 minutes this term - and the derby at the Wanda Metropiltano on November 19 would be a great time for him to start scoring again in the Primera Division.