West Bengal Govt leases 15 acres to AIFF for Rs 1; Stadium and Center of Excellence to be set up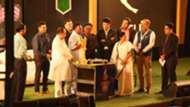 All India Football Federation (AIFF) received a major boost on Monday as the West Bengal government passed an order to lease it 15 acres of land for only a single rupee. The land, leased for 90 years, which will be used in setting up a National Center of Excellence, is located at Rajarhat.
"The state has decided to lease out a 15 acre land in New Town to the AIFF to set up the National Centre of Excellence for football. A football stadium and a football academy would also be there," state Education Minister Partha Chatterjee was quoted as saying by PTI.
AIFF President Praful Patel had a meeting with Chief Minister Mamata Banerjee last Friday, where it was agreed on principle that the state would gift the land to the governing body, while a new stadium will also be built.
"Thank you so much for announcing the CoE here. You will get a prime land in Rajarhat, New Town. We have discussed this matter. You will get free land of 15 acres for this purpose. This is our contribution. We want football to grow in India. Hope India will play (in World Cup) one day. If not today, tomorrow," Banerjee had told after that meeting.
"As a continuing effort of this U-17 World Cup, a National Center of Excellence will be set up with help from FIFA. It will be set up in two year's time. The national senior men and women's team as well as the age group teams will be housed in this center. It will have all kinds of facilities under one roof, mental and physical training, the best of classroom training," Patel had said.