Transfers
Werner aware of interest as Real Madrid circle and Man Utd dream lives on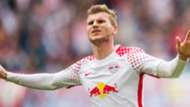 RB Leipzig forward Timo Werner is aware of the interest being shown in him and has left Bayern Munich cursing their luck in the transfer market.
The highly-rated 21-year-old has seen his stock rise considerably since joining Leipzig on the back of their promotion to the Bundesliga in 2016.
He netted 21 times in all competitions last season, earning senior international recognition with Germany in the process, and has 11 efforts to his name this term.
Real Madrid are among those reported to be closely monitoring his situation, while Werner has admitted in the past that he dreams of one day representing Manchester United.
For now, though, he is prepared to ignore the rumours, telling Welt am Sonntag: "I'm a national team player at the age of 21 and I've done well so far in the national team, and things are going well in the league, so of course you'll see that other clubs keep an eye out for you, but that does not concern me at the moment."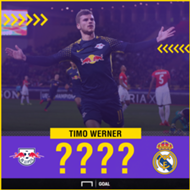 In fact, Werner has hinted that he could snub outside interest entirely and commit to an extension to a deal with Leipzig which is already set to run until 2020.
He added: "My contract is still two-and-a-half years, I have no pressure. 
"The club must decide when the time has come for those responsible to renew the contract. Then I have to see if the time has come for me to extend. Then we will agree, one way or the other."
While happy in his current surroundings, Werner admits that things could have been very different for him had Bayern Munich expressed an interest in his services when he was heading for the exits at Stuttgart.
He said: "Of course I must honestly say that I might have gone to Bayern if Munich had knocked on my door in front of RB Leipzig.
"I would have felt honoured because Leipzig were not as well established then as they are now."
Those words will sting at the Allianz Arena, with Bayern coach Jupp Heynckes having recently stated that he believes the club should have landed Werner when he first burst onto the scene.
He said: "Bayern should have signed Timo Werner years ago, when he was still playing in Stuttgart. He could have learned a lot here."