Arsenal
Wenger remains optimistic on Ramsey renewal at Arsenal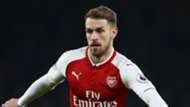 Arsene Wenger remains hopeful that Aaron Ramsey will be among those to commit to an extended stay at Arsenal.
Having endured contract struggles throughout the 2017-18 campaign, more issues lie ahead for the Gunners.
They were eventually able to get Mesut Ozil to put pen to paper in February but not before seeing Alexis Sanchez leave for Manchester United.
Several other players are now heading towards free agency or the final 12 months of their respective deals, with Wales international Ramsey among those facing an uncertain future.
Wenger, though, is hoping to see a man currently tied to Arsenal until 2019 prolong his association with the club, telling reporters: "We want the players to stay at this club.
"That's why I always speak about values. This club has been created by people who work in the fabric. One of the few clubs in the world.
"We want our players to be proud of the values that have been created by people. They are based on hard work, humility, desire to be together. Those are the values we want the players to take charge of, stay together and show these values.
"That's what we want, that's what I want. That's my dream."
While Ramsey still has plenty of time left on his contract in which to continue extension talks, Arsenal are running the risk of losing Jack Wilshere in the summer.
The England international is set to become a free agent at the end of the season, with the 26-year-old having recently revealed that he is "no closer" to reaching an agreement.
Wenger has also reported "no change" in those talks, although the Frenchman did confirm that an offer has been tabled.