CAF Champions League
'We won't be moved' - MFM's Fidelis Ilechukwu unfazed by MC Alger's antics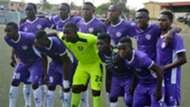 Coach Fidelis Ilechukwu says MFM are not bothered about facing any antics in their quest to clinch a play-off ticket at the expense of a dangerous MC Alger side in Algiers.
Ilechukwu's side fought their way back to a 2-1 victory thanks to Bashiru Monsuru's late stunner in the first leg of the Caf Champions League clash at the Agege Stadium.
With the Olukoya Boys arriving in Algiers on Friday, the gaffer is focused on his tactical plans, while vowing to use his dynamic midfielder Chukwuka Onuwa at the Stade Omar Hamadi.
"We should have scored a lot of goals against Heartland in the first half," Ilechukwu told Goal.
"I was not happy in the first half because we were creating chances and could not convert them. My players were in a haste to score and missed those good opportunities.
"At halftime, I told them to calm down and play their game with the assurance that the goals will surely come. 
"We needed to score goals to reduce those conceded before now and I made them understand that we needed as many goals as possible to cancel the ones we have conceded, especially away from home this season. I'm happy we got those goals."
Despite MC Alger sent a stern warning with Monday's 4-0 bashing of MC Oran in a league clash, Ilechukwu insists they would draw enough confidence from their Sunday's 3-0 win over Heartland. 
"I am very glad we are coming up and gradually understanding ourselves as a team. We hope to take the big confidence from the win against Heartland to Algiers. 
"Anything can happen in football but I strongly believe we will scale through because we understand we are going be poorly treated in Algeria. 
"We are monitoring the situation in Algeria and getting information from those on the ground but we won't be moved by their antics. The most important thing for us is to get an away goal in against MC Alger and we fight hard to qualify."