I-League
'We will have people fasting to death' - Indian side threaten dramatic protest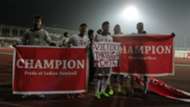 Fans could starve themselves to death as a mark of protest should Aizawl FC be excluded from the Indian FA's (AIFF) new top flight, club owner Robert Royte has claimed.
Why Ronaldo isn't on 400 Madrid goals
Aizawl are the newly crowned champions of India but reports suggest they could be left out of the nation's top division, which is set to be formed by a merger of the Indian Super League and I-League.
They had not been expected to win the league as they are not a traditional I-League powerhouse, but the silverware they have won may not be enough to see them involved, much to the ire of Royte.
"We will have people fasting until death," he told Goal. "We have already written to the AIFF claiming a place in the new merged new league. Till now we've received no response. Being the champions in the top national league, if any team is demoted to the 2nd division, naturally that will invite protests of all kinds. Anything can happen
"There will be big processions in Yangon, Myanmar, and in and around FIFA headquarters, even in Maryland, USA.
"A list of volunteers have already submitted their names. We also have protests targeting the AFC headquarters (Jakarta). Even many fans in other cities of India are united for our cause."
Aizawl FC has submitted its formal claim to AIFF to continue in the top league... pic.twitter.com/Z43cHEV0OA

— Aizawl Football Club (@AizawlFC) May 2, 2017
However, the club owner has admitted that there is still time for talk before any drastic action is taken. 
"Our initial line of action is to appeal to the AIFF to enable Aizawl FC to be included in the new merged entity," he remarked. "We hope the AIFF will do the needful to prevent Aizawl's exclusion from the top division.
"If that request isn't heard in the correct manner, then we are planning to meet Mr. Praful Patel, the AIFF president, and the Sports Minister and Prime Minister of India to apprise them of our grievances.
"If none these methods work, we will approach the Asian Football Confederation (AFC). My friends are there in the AFC and they will make arrangements for a meeting between the AFC president and the officials of Aizawl FC."