Canada
'We have been happy to participate' — new Canada boss Zambrano calls for attitude change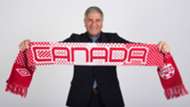 TORONTO — Play time is over.
That's the message Canada's new men's national team head coach Octavio Zambrano was sending to potential players in his inauguaral press conference in Toronto on Friday afternoon.
An Ecuador native with extensive experience in the United States, Zambrano has been tasked with overhauling the entire men's side of the national team program, from the U-14 level right up to the senior squad that the 59-year-old will lead from the sidelines.
Should Canada have to qualify for the Gold Cup?
And while he had only officially been on the job for less than an hour, Zambrano keyed in on a characteristic that he feels will be vital to improving Canada's low standing in the world's game.
"We have been happy to participate, to be there, to just be one of the contenders," Zambrano said, already including himself as part of Canada's soccer infrastructure. "My perception is that we have not been keen enough to think that we can win that competition, that we have to win."
It may seem overly ambitious for the incoming coach of the 117th-ranked national team to talk about winning competitions, but it's an attitude shared by the upper ranks of Canada Soccer.
"There has to be patience, but I think also we need to accelerate a little bit the attitude in terms of winning is important," said Canada Soccer president Victor Montagliani. "Development is important, you can't undermine development from an attitude of winning. The problem is that winning is part of development."
To that end, Zambrano hopes to fill his side with players who not only take pride in representing their country, but also want to take it to the highest possible level.
"You can't step on the pitch without having the passion to want to win at all costs, fairly," Zambrano said. "And passion, if you don't have it, if you don't have that fire inside that takes you to make that extra move to really put your body and yourself in harm's way to accomplish something that is huge and is important for this country, then you probably won't be part of this program."
Mexico attack weaker but strong enough
As for those players who are currently part of the program, Zambrano said he hasn't spoken to them yet. Interim head coach Michael Findley will take the reins for Canada's friendly against Scotland on March 22 before transitioning into an assistant role under Zambrano, and it was Findlay who chose the squad.
"I had absolutely nothing to say on the selection process, which was done by Michael Findlay and his staff," Zambrano explained. "I am going to mostly observe, but eventually there will be times when I will begin to interact with the players."
Zambrano expects to speak with the players in the lead-up to the Scotland match, but he says it'll be a very informal process. 
"They have a game to play, this is the most important thing," he said. "I just want to observe, and I will find the right time and the right place to connect with them, I'm sure."