Goal United
We Are Young Bafana: Creating artwork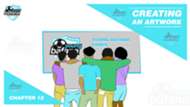 Sihle was on his way to John's house. Today promised to be something completely new for Sihle and his friends. Today they would have the opportunity to contribute to an initiative that Young Bafana Soccer Academy was undertaking to raise much needed funds for their NGO.
As he rounded the corner that opened up on to John's road, Sihle was happy to see some of his teammates waiting in the street. There was a feeling of excitement as they waited in anticipation for a very special person to arrive.
Sally was a local artist who had offered up her time to spend some time with the Young Bafana boys creating an artwork. Ultimately the art piece would be auctioned off at the Young Bafana Golf Day. The boys were hoping that their piece would be instrumental in raising funds for Young Bafana. However, since none of them had ever done anything of the sort before, they were a bit nervous about whether they'd be up to the challenge.
Sally opened the door to John's home and invited the boys to join her. They filed into the house and saw an array of art paraphernalia. There was a large canvas, paints, brushes, paper, pencils…a riot of both colour and promise.
The boys began by discussing the vision which Sally had; a painting done by the Young Bafana boys showcasing their home in Lwandle. It felt good to Sihle that he would be able to express something of his home in a way which was completely unfamiliar to him.
The boys began by sketching themselves on a piece of paper to practice. Sally had advised them to draw themselves doing something which made them happy. For Sihle, that would be playing soccer. As he looked around at his friends pictures, Sihle was amazed at how different each one was. There was a common theme of soccer however each sketch had its own distinctive look and flavor.
Sihle looked over to where Kwezi was sitting. Kwezi was completely absorbed in his sketch. He took his time, focusing on each aspect of his drawing. He almost seemed oblivious to his surroundings. Usually Kwezi was always moving, always active and always had a soccer ball moving between his feet. Today, the ball had been placed next to him, waiting for Kwezi to take it up again.
Once all the boys were happy with their sketches on paper, they were excited to hear that they would now get to draw on the canvas. It was almost painstaking for John to watch how deeply the boys cared about the result. Though he shouldn't have been surprised, the boys put the same sort of effort into all they did, whether it be soccer or school. Though this quiet, peaceful concentration was something new for both John and the boys. They were experiencing a world which was so different to their usual reality.
As Sihle was finishing up his sketch, Sally pointed out that he had forgotten something. Perplexed, Sihle looked at his drawing and wondered what he had forgotten.
'Your name, Sihle. An artist always signs his name on his artwork!'
Sihle felt pride fill him. Pride that he was able to contribute to this initiative. Pride that his name would be featured on the artwork. And pride that something he had helped create would be valued by others and ultimately make a difference in the lives of the boys of Young Bafana Soccer Academy.