Chelsea
'Chelsea ready to fight for CL place' - Willian desperate for three points against Liverpool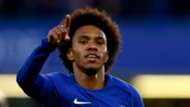 Chelsea forward Willian has urged his team-mates to defeat Liverpool and keep their Champions League hopes alive.
The Blues' chances of finishing in the top four were given a lifeline on Saturday when West Brom struck late against Tottenham to leave Spurs five points ahead of Chelsea in the battle for the final Champions League spot.
Chelsea can cut that deficit to just two points with two games remaining if they win at home against Liverpool on Sunday, with Jurgen Klopp's Reds also battling to secure their own place in the top four.
Willian believes that the Blues can still achieve their goals this season, but knows that they must take all three points against Liverpool in front of their home fans.
"It's a massive game because we still have a chance of catching them and qualifying for next season's Champions League, but to do that we have to win this game, we have to win every game," Willian told the club's official website.
"We are playing at home but they are a good team who are full of confidence so we have to pay great attention in every type of situation. We want to win the game and we have prepared very well.
"We have to win these two games, especially when you play at home. We cannot lose points at Stamford Bridge. We are ready to fight to try to win these matches."
Liverpool were made to battle in midweek against Roma to progress to the Champions League final, recording a 7-6 aggregate victory despite a 4-2 defeat in the Italian capital.
Despite the intensity of the second leg, Willian does not think that Liverpool's players will be match-weary or tired this weekend.
"I don't think so,' he continued. "For sure they are going to come into the game feeling strong and fit because it's a special game.
"If we win, we still have a chance of qualifying for the Champions League and if we don't it will be difficult, which is why I think they are going to come with a strong squad to play this game."