KPL
Wazito Coach demands for 'respect' from AFC Leopards caretaker boss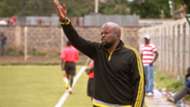 Wazito FC coach Frank Ouna is demanding' for a 'little respect' from AFC Leopards interim coach Dennis Kitambi.
On Wednesday, Ingwe survived a scare to force a narrow 3-2 win against the league's newcomers at Machakos Stadium.
Ouna has hit back at Kitambi for his 'disrespectful remarks' made ahead of the clash after the Tanzanian coach hinted that he was expecting a defensive game from Wazito.
But after the two sides settled for a five-goal thriller, Ouna believes that his side showed quality despite going down.
"AFC Leopards coach was quite confident they would wallop us, but I think we earned our respect from him despite losing. He should show some respect next time."
Ouna also took issue with some of the referee's decisions in the match. Two penalties were awarded to AFC Leopards in the dramatic match that also saw goalkeeper Philip Odhiambo save two spot-kicks.
Though the second penalty, that was eventually missed by Victor Majid was a clear call from the referee, Ezekiel Odera's first-half penalty appeared a bit soft.
"The game was a balanced one, but I think that the referee made some bad decisions. This is football, a game of men and awarding two easy decisions, I think, was unfortunate."