Premier League
WATCH: Alexis, Zlatan, Rooney – The Goal Pressure Index moments of the season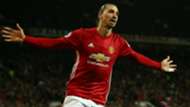 As the Premier League rolls towards a thrilling crescendo, it's all to play for in the race to avoid relegation and secure those vital UEFA Champions League spots.
Manchester United are desperate to clinch their return to European football's top table and will no doubt rely heavily on Zlatan Ibrahimovic in the final weeks of the campaign.
The big Swede is enjoying an Indian summer in Manchester. One of the star performers of the league season so far, in February he became the oldest player in Premier League history to score 15 goals when he found the net against Leicester City aged 35 years and 125 days.
He will be looking to another ageing star for some support, with his colleague Wayne Rooney having proved he can cope with the pressure when he broke the club's all-time goalscoring record with a last-minute equaliser against Stoke City in January.
There will also be huge strain on Arsenal and Arsene Wenger after the Gunners' Champions League humiliation against Bayern Munich this week, with their hopes almost certainly pinned on Alexis Sanchez.
The pressure is on.
The Goal Pressure Index uses more than 750,000 data points as well as factors including league position, point in the season and the opposition to calculate a rating out of 100 for every Premier League player every week.
The Goal Pressure Index is presented by Sure, Official Partner of Chelsea FC, Everton FC and Southampton FC. Join the conversation on Twitter @Sure.