Gaming
VOTE NOW | Inui, Shibasaki, Heung-min? Who resembles more to RECON of Call of duty: Black Ops 4?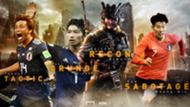 Next on the list of polls we ask you to help us identify the athlete who is the closest look-alike to specialist character – Recon in COD: Black Ops 4.
As useful as it gets, Recon is your friendly army of one whose sole purpose it to locate enemies through selected gadgets he carries with him. And knowing where enemies are is definitely an advantage.
Takashi Inui : With pace to burn on the flanks the skillful Japanese also has a keen eye for that crucial pass, effectively transitioning from defence to attack.
Gaku Shibasaki : Without any doubt, one could say that the Japanese was the anchor within the Samurai Blues in the summer. While he demands a lot of freedom, his ability to distribute the ball, find and create spaces for the offense is a characteristic all around him enjoy.
Son Heung-min : Versatile, reliable and tenacious – three of the qualities that has led to his rise to prominence and is predominantly known as the game changer or even a super-sub at times when things are going wayside for spurs.
That said, now it's your time to vote on the player that best matches with Recon? Vote below: