Austria v Brazil
VIDEO: To fall in love with Brazil again - Brasil Global Tour meets Tim Vickery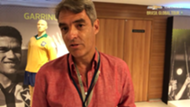 Tim Vickery is one of the most respected voices in Brazilian football.
An English journalist who has lived in Brazil since 1994, for over two decades Tim has displayed an understanding of Brazilian football - and culture - like few others, offering intrigued football fans from afar an unrivalled inside look at the most decorated footballing nation on earth.
South American football correspondent for the BBC, Tim also covers the continent for World Soccer Magazine and is a regular on Brazilian TV, where he can be seen discussing the topics of the day on Redacao SporTV alongside the likes of Andre Rizek. 
He is also the driving force behind the popular World Football Phone-In podcast, which christened him the Legendinho.
We caught up with Tim last month, immediately after Tite had named his World Cup, taking the chance to pick his sizeable brain on one of his favourite topics: A Selecao.
Watch our chat with Tim in the the video below.