Videos
Javi Martinez braced for 'toughest Arsenal side Bayern have faced in the last five years'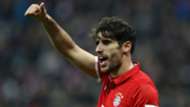 ---
EXCLUSIVE
---
Javi Martinez believes Bayern Munich are running into the "toughest Arsenal" the Bundesliga giants have faced in their recent Champions League history.
Two sides that have crossed paths on a regular basis in Europe's premier club competition are set to lock horns again at the last-16 stage.
Hummels offers hope to Arsenal
Spain international Martinez has told Goal that his side are taking aim at overall continental glory, but is aware that there are a number of tricky hurdles for them to overcome in order to make that possible.
"I think against Arsenal it's always difficult," Martinez said. "They have young players, but very good, very fast players. I think they're one of the most difficult opponents in the round of last 16.
"Of course, we know that Bayern's goal is always to win the Bundesliga title and to do that we have to beat all of the teams in the tournament. Now it's time for Arsenal and we trust our team, our manager, our fans. So I'm sure we will give everything we have to try to beat them.
"This year they are doing very well. They are in fourth position now, but the Premier League is very, very difficult this year. So yes, this is the toughest Arsenal we have faced in the last five years."
Martinez also revealed what he believes is the way Bayern can overcome the challenge Arsenal pose, stating he and his team-mates must work together as a team, rather than try to shine as individuals.
"I think the key to beat Arsenal is team-work. It can't only be down to a single person. We have to work together, all eleven players on the pitch. Defending isn't only about the four players at the back, it's about the whole team, about all 11 players. We have to work together, not only in the defence, but also when attacking. I think that will be the key for us," he said.
Check out the video above to listen to what he has had to say ahead of a first leg meeting with the Gunners at the Allianz Arena on Wednesday.