Powerade
VIDEO: A wonderful world - Javier Hernandez's Manchester United evolution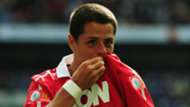 Transfers are never kept a secret for too long in modern football, but Javier Hernandez managed to keep an approach from Manchester United under his hat while plying his trade for Chivas.
A United official got in touch with Chicharito's father to tell him of the Red Devils' hopes of bringing his son to Old Trafford, but made it clear that he was not to tell anyone of their interest as any leak would risk the possibility of a deal being struck.
Thankfully, United's advances were kept under wraps, much to the delight of Hernandez.
"My father told me that Manchester United contacted him personally and we were asked to keep the information between the scout and us so we could follow the procedure to make the final deal, and thank God we could keep it a secret," Hernandez said.
Playing for a club of United's standing certainly proved beneficial to Hernandez's development as a player - the Mexico star scored 20 times to help Sir Alex Ferguson's side reclaim the Premier League title in 2010-11 - but the multicultural nature of the club's senior squad also helped him to develop as a person.
"During my stay at Manchester United I changed and grew, especially on the personal side and as a player," Hernandez said.
"Being involved in another culture, another country, adapting to all that, to another language, sharing with colleagues from other parts in the world in such a complete, diverse squad with different cultures, religions, different tastes.
"That makes you grow; it makes you open your horizons to be a more open person and know that the world is something wonderful."