West Ham United v Tottenham Hotspur
Victor Wanyama happy to regain form after injury setback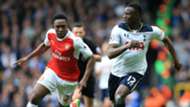 Victor Wanyama has admitted that he felt unfit after making a comeback for Tottenham in the Premier League.
The Kenyan international midfielder had started every game for Spurs in the Premier League this season until he was forced off shortly before half-time in the 2-0 win at Burnley on April 1 with a back problem. Wanyama subsequently sat out the 3-1 triumph at Swansea City and was initially named as a substitute for the 4-0 home victory over Watford before being forced to withdraw from the bench just prior to kick-off.
Wanyama not suprised by Arsenal win, eyes league title
He returned to action as a late substitute against Bournemouth – another 4-0 win – on April 15 and since then has started every game. Speaking after Tottenham beat Arsenal 2-0 to keep pressure on Chelsea at the summit, Wanyama admitted that it was not easy to regain his form after staying out for a while.
"Today I think it was much better for me, I enjoyed playing," Wanyama told the club's official website after the win at White Hart Lane. "It has been tough for me after my injury to come back and to get going has been very difficult, so now I'm starting feeling like I'm getting back into it again and hopefully I can keep the good performances going.
Kenyan star lauds Tottenham fans after Arsenal win
"To me, honestly, I was doing well until I got injured. To come back was not easy because of how we want to play. It was a little bit difficult for me, but now I feel like I'm getting sharper and I'm getting stronger. Hopefully I can finish the season strongly along with the team."